Auckland's Skyrocketing Housing Prices Are More Than a Demand Problem
There are strong policy encouragements to restrict supply, contributing to skyrocketing prices.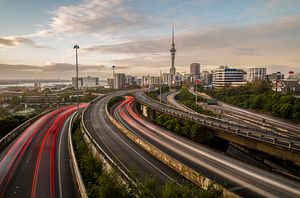 One of the major issues within New Zealand over the past few months has been the rapidly increasing cost of housing, particularly in the country's largest city and commercial hub, Auckland. High prices combined with moderate incomes have pushed the city into becoming one of the most expensive places in the world to buy a house.
The press have been publishing almost daily stories on the phenomenon, and country's largest circulating newspaper, the NZ Herald, has created an interactive data analysis into the affordability of each major city and suburb to highlight the problem.
The current median house price within the city is $748,700 (US$558,000), combined with a $77,500 (US$52,000) median income. This is a house price to wage growth multiple of 9.7. Throughout the 20th century western cities have typically seen this figure around three.
The price traditionally deemed as the "affordable" benchmark for a property in Auckland had been around $450,000 (US$304,000). However, this figure currently places 90 percent of the city's suburbs out of reach for young, first-time homebuyers. Those who are able to purchase property are increasingly relying on the assistance of wealthy parents to obtain a large deposit, entrenching a property owning class as the market becomes inaccessible to those without rich relatives.
Increasingly people are purchasing housing in regional areas outside of the city, creating a commuter culture completely reliant on cars.
Due to a rush on property purchasing by those who fear that prices will continue to rise, the Reserve Bank looks set to tighten its lending restrictions for those wishing to take out a mortgage. The hope is that this will restrict the demand that is pushing prices up.
However, demand is not the only factor, and attempting to restrict demand for something as instinctive to humans as owning a home has ethical implications (especially when such policies are created by those who already own homes).
The major factor in this phenomenon remains a significant undersupply of housing in Auckland due to land regulations and planning rules that severely restrict the ability to build.
The growth boundary that has been created around Auckland has prevented the city from expanding outward, while anti-density restrictions have prevented the city from growing upward. The resulting scramble for existing housing stock is what is causing the cost of housing to spike.
While the cost of purchasing a property is one concern, lack of supply has also increased the cost to rent. This has led to a rise in makeshift accommodation and homelessness, placing significant burdens on charities, and shifting their practices away from capacity building toward simply providing subsistence.
Unfortunately, the leader of the opposition, Labour's Andrew Little, has attempted to find some political traction out of the issue by promoting superficial knee-jerk reactions about Chinese property buyers, a narrative similarly used in Australian and Canadian cities.
There remains a strong assumption that newcomers are detrimental to a city, and when housing cost become exorbitant, this nativist sentiment becomes inflamed.
Yet this perspective encompasses a flawed logic, as cities are advantageous because they are a concentration of people, not in spite of it. This is why cities form: for people to take advantage of the proximity to other people with a wide variety of skills. To restrict the movement of people to a city is to fundamentally undermine its DNA.
New Zealand's immigration intake is not dramatic. The country currently has a net increase of 0.8 percent to a population of around 4.5 million. Being the country's major economic center, Auckland does attract more migrants than other regions.
Alongside this, the net loss of New Zealanders to Australia (a major occurrence) is at its lowest since 1991, when Australia was experiencing a recession. The push factors which made trans-Tasman movement desirable have diminished.
Prime Minister John Key has highlighted this situation, stating that Auckland's growth is "a sign of success….a quality problem."  Yet, it should not be a problem at all.
Along with tax incentives that encourage the financially stable to put their wealth in property and then jealously guard it, there are strong policy encouragements to restrict supply. Local councils will continue to vote to restrict construction and to protect the property prices of homeowners, as those are the people who vote in council elections.
Typically those who control policy levers at the national level, whether they be politicians or senior bureaucrats, are homeowners themselves, and therefore have little incentive to enact policy changes that would diminish the favorable treatment the already-financially stable receive from the state.
This highlights a glaring hole within democratic and state institutions in countries like New Zealand: Whether, in their predominant wealth, they have the capacity to provide conditions that would allow the less-well off access to stable housing. Should Auckland's property prices continue to rise dramatically these holes may need to be addressed.