Beef and Boat People: New Trouble in Australia-Indonesia Relations
A gaffe by an Australian politician ahead of this summer's elections causes blowback from Indonesia.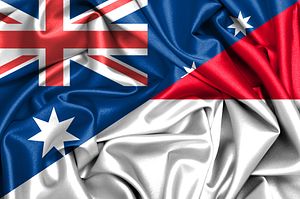 The turmoil of Australia's July 2 elections has pulled Australia-Indonesia relations into weird territory these past couple days. Prime Minister Malcolm Turnbull is in "damage control" mode after his deputy, Barnaby Joyce, made controversial remarks linking a 2011 ban on live cattle exports to Indonesia to an increase in "boat people" from the neighboring archipelago.
Joyce was participating in ABC's regional leaders debate on Tuesday night in Goulburn when he remarked, "Might I remind you that when we closed down the live export industry, it was around the same time that we started seeing a lot of people arriving in boats in Australia."
Australia's beef exports to Indonesia had been a significant source of protein for the Indonesian diet; however, the Australian government, under Julia Gillard's leadership then, suspended live exports following a journalistic investigation that uncovered animal cruelty in Indonesia. Labor had just announced the reintroduction of an animal welfare watchdog – which would likely further constrain live exports to Indonesia — before the debate began. Joyce was apparently trying to criticize this new initiative by linking it to the first time Australia cut off exports: "[Jakarta] accepted us as a reasonable trading partner, we proved overnight that we weren't, we created immense bad will in the region" – and hence, Indonesia retaliated by sending boat people? If the logic appears incoherent, you're not alone.
Joyce was given a chance to walk back those comments immediately after, but stuck by them, stating: "I think that our capacity to have a strong working relationship with Indonesia is affected by them relying on us to be reliable suppliers of protein for their market … I believe that the Independents and Greens and the Labor party, when they closed down the live export industry, created immense bad will, and our capacity to manage other problems which became present were affected."
Thursday morning, Joyce did offer clarification that the suspension did not cause Indonesia to send people to Australia, but made it difficult to negotiate with Indonesia on other issues.
The Indonesian Embassy in Canberra dismissed the assertion that there is a link between the policy of live export ban and increased number of boats heading to Australia. A spokesperson said, "Indonesia was and remains committed to being a part of the regional solution to the challenge we are facing of people smuggling." In a statement, Indonesia's former foreign minister, Marty Natalegawa, took Joyce to task for "[suggesting] that the Indonesian government would put at risk the safety and lives of innocent asylum seekers in making the treacherous journey to Australia simply to make a point."
Turnbull also dismissed Joyce's tenuous causal logic, saying, "[T]here is no link between the Indonesian government and people smuggling … Our cooperation with Indonesia in terms of stopping people smuggling is very, very strong. They are as committed to stopping that trade as we are."
These remarks come at a delicate time for Turnbull, who has been trying to improve relations after Tony Abbott's stint as Australia's prime minister. Indonesians had welcomed Turnbull's ouster of Abbott, hoping that the new leader's style would be a boon to Australia-Indonesia relations after it had just weathered a rocky stretch over Jakarta's execution of Australian drug smugglers, Canberra's turnback policy, and espionage allegations.
After the execution of the "Bali Nine" duo Andrew Chan and Myuran Sukumaran in April 2015, high-level contacts were only reestablished in August 2015 when Australian Foreign Minister Julie Bishop and Indonesian Foreign Minister Retno Marsudi met on the sidelines of an ASEAN foreign ministers' meeting.
Australian Ambassador to Jakarta Paul Grigson recently spoke to The Jakarta Post about the three dimensions of Australia-Indonesia relations. The government-to-government part is "strong," Grigson says, with good cooperation between the police and military of the two countries. The two countries also cooperate closely on counter-terrorism efforts, such as co-chairing the Global Counter-Terrorism Forum's Detention and Reintegration working group. The other dimensions include the economic relationship – where Grigson sees opportunities for investments going in both directions – and the people-to-people relationship. Grigson boasts of how the embassy has 61 diplomats with Indonesian language skills – "more staff than most embassies have altogether."
The Indonesian side also believes in the importance of fostering good Australia-Indonesia relations. Retno told the Sydney Morning Herald last year, "We couldn't afford to have a bad relationship with Australia, and I'm sure Australia has the same view towards Indonesia."
However, the relationship has been and still remains "fragile" as both sides accuse the other of being uncommunicative.
A particularly prescient analysis by Ken Ward last summer predicted the present crisis: he faults political figures' tendency to use Indonesia as a "political card," writing, "Criticizing one's domestic political opponents for their policies… vis-à-vis Indonesia… is unlikely to yield the wisest policies towards that country in the future."
So, what next for Australia-Indonesia relations? Hopefully, a forthright apology from Joyce that clearly renounces his earlier insinuation that the Indonesian government is deliberately sending boat people to Australia. This is a serious issue of human suffering and should not be treated so lightly for political maneuvering. Second, improved Australia-Indonesia relations will require reimagining Australia-Indonesia relations beyond the "three B's" – Bali, beef, and boats. There is great potential for further security and economic cooperation between these two neighbors, and it is time for both sides to actively engage with each other – above the fray of party politics.