Citizenship Crisis Rocks Australia's Turnbull Government
The ouster of lawmakers over dual citizenship is threatening Turnbull's grip on power.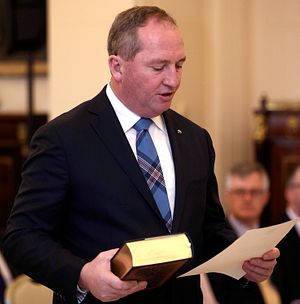 "And another one gone, and another one gone/Another one bites the dust," sang British rock group Queen. Unfortunately for Australia's Turnbull government, six lawmakers have bit the dust and more could be gone soon amid a growing constitutional crisis over citizenship that threatens the center-right Coalition's grip on power.
Section 44 of Australia's Constitution bars from political office any person who has "any acknowledgment of allegiance, obedience, or adherence to a foreign power, or is a subject or a citizen or entitled to the rights or privileges of a subject or a citizen of a foreign power."
Ironically, the 1901 law written in the days of the British Empire has suddenly come back to haunt multicultural Australia in 2017, as supposedly professional political parties have found to their cost.
On Sunday, Liberal lawmaker Alex Hawke became the latest to be caught up in the political crisis, amid reports of his Greek heritage. Earlier, Environment Minister Josh Frydenberg reportedly sought advice over his Hungarian background, while Senate President Stephen Parry was forced to resign after admitting his British citizenship.
The drama came to a head on October 27, when a High Court ruling on the so-called "Citizenship Seven" found that former Deputy Prime Minister Barnaby Joyce was ineligible due to his New Zealand heritage, along with fellow Nationals' lawmaker Fiona Nash, who had British nationality.
Two Greens senators were dispelled for being dual citizens of Canada and New Zealand respectively, while One Nation Senator Malcolm Roberts was found to be British after having claimed to possess documents proving otherwise.
Two other senators were deemed validly elected, however — Nationals Senator Matthew Canavan and independent Senator Nick Xenophon.
Joyce's disqualification cost Turnbull's Liberal-National Coalition its one-seat majority in the House of Representatives, pending a by-election to be held December 2 that Joyce is widely expected to win.
The top court's ruling followed earlier claims by Prime Minister Malcolm Turnbull that his deputy leader was safe from a legal challenge.
"The government is the very confident the court will not find that the member for New England is to be disqualified from the Parliament. Very confident," Turnbull said prior to the decision.
However, after the legal decision was announced, Turnbull expressed confidence that his government would remain in power with support from independent lawmakers.
"We have a majority of members in the House of Representatives, even in the absence of Barnaby Joyce and, of course, as you know, we have support from the crossbench," he said.
Joyce is remaining leader of the Nationals, the junior partner in the ruling Coalition, pending the outcome of his by-election, with Turnbull adding the agriculture ministry to his responsibilities in the meantime.
Uncertainty Ahead
However, acting Opposition Leader Tanya Plibersek said the crisis remained unresolved.
"Australia is facing a period of uncertainty. We have a hung Parliament with a minority government. We've got a prime minister who has made these bad judgment calls again and again," the Labor lawmaker said.
Labor has claimed that more than 100 ministerial decisions or announcements made by Joyce and Nash since October 2016 could now be potentially challenged due to their ineligibility to sit in Parliament, although Attorney General George Brandis has disputed the claim.
Fortunately for the government, the next federal election is not due until 2019. Yet should Turnbull be forced into calling a poll, recent opinion surveys suggest his two-year stint in office could be threatened.
The Coalition has trailed Labor for 22 consecutive Newspolls, with the latest survey released October 30 showing the center-left opposition party leading by 54 to 46 percent. This is despite Turnbull consistently outpolling Labor leader Bill Shorten as preferred prime minister.
The prospects of more lawmakers being outed could increase, however, should calls for a parliamentary audit be implemented. Both Labor and the Greens have pushed for such a move, although Turnbull flatly rejected it, calling it a "witch hunt."
"Are we saying that we would propose to have somebody interrogate each and every member and senator, examine their genealogy, seek to uncover facts about their parentage that may not even be known to the member or senator?" he asked.
However, without such universal disclosure speculation is likely to continue, with the potential for yet more lawmakers to be forced out.
"The probability that there are more members of the lower house who are ineligible to stand is 99.96 percent," Greens leader Richard Di Natale claimed.
For a government already dealing with policy headaches over energy, same-sex marriage, and the threat of One Nation, losing more lawmakers who failed to do their homework over citizenship could be the final blow.