'No More Sex With Staff': Australia's Government Reels Under Latest Scandal
Barnaby Joyce's extramarital affair with a staffer threatens the very viability of the Turnbull government.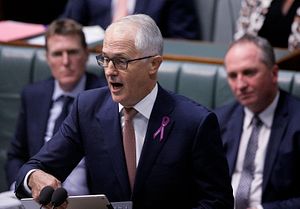 It seems with that each new year brings renewed political turmoil for Australia's Turnbull government.
Thirteen months ago, I wrote how 2017 got off to a woeful start for Prime Minister Malcolm Turnbull's Liberal-National Coalition government. Back then, a ministerial travel expenses scandal forced Australia's health minister to stand down. It rocked the government, and set the tone for a largely forgettable year.
Much of the remainder of 2017 was occupied by the dual-citizenship scandal — a crisis that embroiled even the deputy prime minister, and leader of the National Party, Barnaby Joyce. Joyce was forced to resign and re-contest his own seat, securing an easy victory that appeared to buoy the Turnbull government heading into 2018.
But now  Joyce once more threatens his own government's survival. And the fallout of 2017's challenges pale in comparison to the existential threat a sensational sex scandal involving the deputy prime minister poses to Turnbull's administration.
Early last week, Sydney's Daily Telegraph newspaper broke Canberra's worst-kept secret: that Joyce had left his wife to pursue a relationship with his former media adviser, who is currently five months pregnant with the deputy prime minister's fifth child.
And while the affair itself shocked, it is the handling of the episode by Turnbull and Joyce himself that has threatened to split the Liberal-National coalition and force an early election.
Upon the revelations, questions were immediately raised about the capacity of Joyce to serve as acting prime minister when Turnbull visits U.S. President Donald Trump in Washington next week. Humiliatingly, Turnbull forced Joyce to take personal leave, prohibiting him from assuming the acting PM role, and opening the door for legitimate accusations that the deputy prime minister is not fit for office.
It got worse.
Clearly outraged by Joyce's extramarital liaison, Turnbull on Thursday addressed the media, admonishing Joyce, and issuing a remarkable dictate to his the rest of his government: "ministers… must not engage in sexual relationships with staff."
The headlines wrote themselves.
Rather than resolving the situation, "Turnbull's sex ban," wrote Australian political commentator Katherine Murphy, threw "petrol on political bonfire."
After Thursday's prime ministerial intervention, Joyce was rumored to be outraged. He made his true feelings heard the next day, publicly arguing that Turnbull's comments were "inept" and only made the situation worse. Back against the wall, Joyce came out fighting.
Few observers in Australia expect the government to recover unless either Joyce or Turnbull step down, or somehow resolve their unprecedented rift.
The episode, as comical as it might seem on the surface, exposes the deep fissures within Australia's governing coalition.
The National Party, led by Joyce, is a minor party in Australia's governing coalition. A socially conservative agrarian party, it is an entity sometimes at odds with Turnbull's urban Liberal Party, an institution that encompasses a broad, sometimes clashing grouping of inner-city liberals, small-government conservatives, and socially conservative firebrands.
United largely in their disdain for the social-democratic opposition Labor Party, the Liberal-National coalition is a marriage of convenience — providing the National Party, which only receives around 10 percent of the national vote, a pathway to power.
But the Turnbull-Joyce spat threatens the viability of this opportunistic, increasingly fragile political relationship. It threatens the very viability of the Turnbull government.
In 2016, Malcolm Turnbull boldly launched his last election campaign in front of a 15-foot sign reading "Stable Government." Stability, predictability, and sheer competence were to be his governing mantra.
Instead, he has presided over a period of Australian governance even his most staunch supporters would concede is nothing short of satirical.
Edward Cavanough is a freelance writer from Sydney, Australia, and the former Manager of Policy at The McKell Institute, a leading Australian think-tank. In 2018, he is traveling overland from Adelaide to London, writing at www.oneroadtolondon.com