Latest US-China 'Unsafe' Intercept Incident Shows Continued Disagreement on EEZ Surveillance
The United States and China continue to disagree on when and where surveillance is appropriate.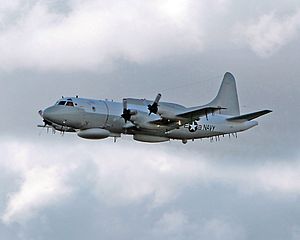 As I discussed recently in these pages, the United States Department of Defense said yesterday that two Chinese fighters had conducted an "unsafe" intercept of a U.S. EP-3 Aries signals reconnaissance aircraft in international airspace, over the South China Sea.
While the United States continues to investigate the circumstances of the incident and the specific parameters of what the Chinese jets attempted–initial reports noted an approach within 50 feet of the EP-3. China has been quick to deny U.S. allegations.
"Information from the relevant Chinese authorities shows that what the U.S. said is not true," Hong Lei, a spokesperson for China's foreign ministry, said on Thursday, effectively accusing the U.S. Department of Defense of lying.
"The US Navy plane EP-3 was then conducting reconnaissance close to China's Hainan Dao," he continued, referring to Hainan Island, a large Chinese island in the northern South China Sea that's home to a naval base for People's Liberation Army-Navy (PLAN).
Hong's remarks then get interesting. He notes that "In accordance with laws and regulations, the two Chinese military aircraft followed and monitored the US plane from a safe distance without taking any dangerous actions."
It's unclear specifically which laws and regulations he's referring to, since the U.S. reconnaissance aircraft was outside Chinese territorial airspace. "Their operation was completely in keeping with safety and professional standards," he concluded.
As I noted previously, the United States and China already have agreed to uphold non-binding bilateral and multilateral commitments on their military-to-military contacts in the air. These are in addition to the binding legal commitments that govern international civil and military aviation more generally.
(Here I'd recommend readers read James Kraska's post in Lawfare earlier this year, making the argument that non-binding commitments weaken binding legal obligations.)
Hong's remarks left the question of "laws and regulations" ambiguous on purpose and, to be sure, China has long held the position that the United States shouldn't conduct reconnaissance and surveillance in international airspace over China's exclusive economic zone (EEZ).
But, given the context of Beijing's flurry of island-building since the last "unsafe" intercept in the Spratly Islands in South China Sea, in August 2014, it's worth wondering if actions like this by Beijing are the first steps to a formal Air Defense Identification Zone (ADIZ) like the one China introduced in November 2013 in the East China Sea.
China has multiple airstrips in the South China Sea, on Woody Island in the Paracels, and on Fiery Cross Reef and Subi Reef in the Spratlys. The United States Defense Department, in its latest assessment of China's military, noted that all of Beijing's South China Sea airstrips can "support any aircraft in China's inventory."
We've seen other instances of Beijing attempting to restrict aerial activities by U.S. military aircraft in the South China Sea recently. For instance, there was the highly publicized flight by a P-8A Poseidon near Fiery Cross Reef that resulted in eight warnings last May. In November, Chinese air traffic controllers tried restricting two U.S. B-52 bombers.
Indeed, Hong went to the trouble of reminding those present as the foreign ministry press conference that "U.S. military vessels and aircraft frequently carry out reconnaissance in Chinese coastal waters, seriously endangering Chinese maritime and airspace security."
"We demand that the US immediately cease this type of close reconnaissance and prevent this sort of incident from happening again," he added, reiterating China's long-stated opposition to U.S. surveillance activities nearby.
Incidentally, Hong's warning that an "incident" could happen again should the U.S. carry out more surveillance somewhat concedes that there, in fact, is an incident here, contrary to his earlier claim that the United States was inaccurate in its assessment of how the Chinese jets behaved.
Washington disputes Beijing's position on surveillance in and over the EEZ and maintains that they are in accordance with customary international law. It holds to that position in how it treats reconnaissance and surveillance activities by Chinese assets, allowing PLAN surveillance within its EEZ.
In 2014, when China was participating in the Rim of the Pacific (RIMPAC) exercise for the first time at the invitation of the United States, a PLAN Dongdiao-class auxiliary general intelligence (AGI) ship collected electronic and communications data from ships participating in the exercise, all within the United States EEZ off Hawaii.
At the time, a spokesperson for U.S. Pacific Command noted that "The U.S. Navy operates in waters beyond the territorial seas of coastal nations around the world while adhering to international law and norms, and China's AGI is permitted to do the same."
China will be back at RIMPAC 2016, which is slated to kick off in a matter of days. If the PLAN decides to send another AGI ship, Washington may have an opportunity to reiterate its position on near-seas surveillance.