North Korea's 7th Workers' Party Congress Kicks Off: What to Expect
Will the Party Congress lead to the announcement of big reform?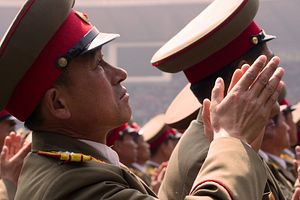 On Friday, North Korea, for the first time in nearly forty years, opened the 7th Congress of the Workers' Party of Korea (WPK). Beginning at 9 a.m., party delegates began arriving at a convention center hosting the meeting in Pyongyang, known as the "April 25 House of Culture." The highly anticipated meeting was announced last year and has gripped observers of North Korean politics given the highly secretive state's lack of general political transparency.
In other states that have adopted communist governments modeled on the Soviet Union, party congresses have presented an opportunity for the party to announce leadership changes, new appointments, revise foundational documents, and unveil grand plans of economic reform. Certainly, the dominant communist parties in contemporary Asian states, including in China and Vietnam, have held similar events in recent years.
In the North Korean context, the upcoming congress may mostly serve to emphasize continuity in the country's political trajectory, even though the event last took place in 1980, when Kim Il-sung, Kim Jong-un's grandfather and founder of North Korea, was leader. (The 1980 congress, incidentally, was when Kim Jong-il was presented as his father's successor–not that Kim Jong-un has any similar plans this time around.)
Broadly, the Congress can be expected to chart out a direction for the country for the next few years–possibly going as far as setting out a plan for the next decade. The Party might chose to alter its governing documents, including the Workers' Party charter. These changes could alter how different parts of North Korea's government interact and may complement any leadership changes that Kim has in store.
Several analysts (myself included) have wondered in the Workers' Party Congress could be a major "coming out" moment, so to speak, for Kim Jong-un's own brand of North Korean state policy, best encapsulated in his byungjin line, which seeks to have North Korea simultaneously pursue a nuclear deterrent and economic prosperity.
Kim's father, Kim Jong-il, had pursued the songun, or "military first," approach to state economic planning, which ultimately resulted in widespread famine and economic disaster in the late-1990s and early-2000s.
There are some indications that Kim could look to unveil a bold new economic direction for the country. For instance, during his New Year's address last year, he emphasized economic development and underplayed the role of nuclear weapons. Moreover, ahead of the congress, state media disseminated a new set of slogans, many of which emphasized agriculture and economic output.
Despite this, in the first four months of 2016, North Korea has demonstrated an unprecedented level of progress in its multi-faceted nuclear weapons development program; it testing a fourth nuclear device in January, followed by a satellite launch in February. Meanwhile, Pyongyang has broadcast advances in its ballistic missile engines, reentry vehicles, and even submarine-launched ballistic missiles.
This spate of provocative military activity has notably not been accompanied by any particular attention on the economic leg of Kim's byungjin line. Indeed, the implementation of UN Security Council resolution 2270, which contains some of the harshest sanctions enacted against any UN member state in more than a decade, has complicated matters.
Thus, with the Workers' Party Congress, Kim has an opportunity to set a path down for the North Korean economy, demonstrating that byungjin remains realistic. He will, however, have his work cut out for him, with another possible famine looming for North Korea, according to recent warnings by state media.
We'll learn more about North Korea's Workers' Party Congress over the coming days. Somewhat unusually, Pyongyang has invited foreign press to report on the event, marginally increasing transparency and access in what is one of the world's most opaque states.