What to Expect in Inter-Korean Relations in 2019
Can Kim and Moon make good on the budding new era of inter-Korean relations?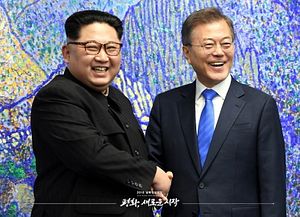 With both Kim Jong Un's New Year's speech and South Korean President Moon Jae-in's New Year's press conference in the books, the outline of inter-Korean relations in 2019 has begun to take shape.
Kim's address and subsequent visit to Beijing underscored the mainstream analytical narrative that in 2019, his focus will be on developing the North Korean economy and projecting the country as a normal state in the international community. Maintaining productive relations with Seoul is a key component of these objectives.
As for South Korea, successful diplomacy with North Korea has been the pillar of both Moon's domestic and foreign policy. Approval ratings at home have been highest during times of dialogue with Pyongyang, and besides his own three summits with Kim, the South Korean president has served as a conduit between Washington and Pyongyang during their up-and-down relations of 2018.
Though it is in the interest of both North Korea and South Korea to build on the diplomatic progress of the past year, as relations move into the next phase, increased expectations will bring new challenges in 2019.
Inter-Korean Projects
One major test appears to be the Kaesong Industrial Complex and Mt. Kumgang Resort. Both of these joint Korean operations are located just across the north side of the border and were shuttered in 2016 and 2008, respectively. In his speech, Kim called on Seoul to resume operations at these ventures, stating explicitly that North Korea would not demand compensation for supposed lost revenue, something Pyongyang has done in past negotiations, often for exorbitant sums.  
The symbolism of cooperation aside, the projects are significant to the North Korean leader's economic vision. The Kaesong Industrial Complex gives jobs to North Korean workers and much-needed cash to its government. The Kumgang Resort is a tourist attraction that Kim hopes to use in order to show the world and investors that North Korea is a business and tourist-friendly nation.  
These joint projects are important to South Korea as well. While Moon stuck to the script in his address, calling for North Korea to denuclearize in exchange for sanction relief, his grand strategy is to offer lasting economic and development assistance through cooperation in hopes to give North Korea concrete incentives to denuclearize. Resuming operations at Kaesong and Kumgang would count as a significant step for Seoul to demonstrate to Pyongyang its commitment to this process.
Dealing with Adversity
However, similar to the fate of the inter-Korean railways linked in late December, progress on both Kaesong and Kumgang is limited by United Nations sanctions that prevent bulk cash transfers to North Korea. Leaders in Seoul have been wondering aloud how they can resume operations, but barring a special exemption from the United Nations Security Council, the doors at these facilities will remain closed to the international community.
The question is, then, how the two sides will respond to adversity. If the leaders in Pyongyang and Seoul are serious about changing the fundamental nature of their relationship, measuring problem-solving capacity is a good place to start.
During times of impasse in past engagements, Pyongyang has threatened to cancel dialogue or suspend other components of negotiation. In this case, after following the military de-escalation steps of the September 2018 Pyongyang Declaration, North Korea may accuse South Korea of not making earnest efforts to seek sanctions relief or holding up its end of the declaration.   
In 2019, however, Kim wants to be seen as a legitimate statesmen. This means it will be difficult politically to put other items, including humanitarian aid deliveries, cultural exchanges, and reunions for separated families, on the chopping block to send a message to Seoul. South Korea is still the only country advocating on North Korea's behalf that is a U.S. ally, not strategic competitor. Additionally, North Korea needs South Korea for economic diversification.
Replaying the Greatest Hits
With that said, Pyongyang will always search for Seoul's pressure points. Kim made ethnonationalist appeals regarding the U.S.-South Korea military alliance by calling for an end of South Korean participation in joint military exercises. He repeated the decades-old refrain that affairs on the peninsula should be dictated by Koreans only. This is intended to create the bifurcated framework that relations are ultimately a choice that Seoul must make between its Korean brethren in the North, or outsiders. The Rodong Sinmun verbalized this message in a January 3 article titled "The North-South Korean Relationship Must Not Become an Appendage of the DPRK-US Relationship."
Though this is a recycled message, Kim likely sees a more receptive audience in South Korea than in years past for two main reasons: First, Kim feels confident in his position vis-a-vis the current status of peninsular affairs. Second, the U.S.-South Korea military cost-sharing agreement expired on December 31, and the U.S. side has reportedly asked for a substantial increase in financial burden for Seoul. Given Trump's well-known attitude toward American troops stationed abroad and the fact at the Kim-Trump Singapore meeting, the American president agreed to halt "war games" without informing commanders in Seoul or even his own Defense Department, it is not inconceivable that the next Kim-Trump summit produces further change to the U.S. military structure on the Korean Peninsula.
Moon adroitly addressed the military situation by stating that American troops are part of a regional stability force, not an invading force directed against North Korea. Affirming this position is meant to reassure pro-engagement skeptics at home and send the message to Pyongyang that neither the alliance nor the U.S. military presence are on the negotiating table.
Although Seoul and Washington have agreed to scale down joint military exercises for 2019 for the sake of diplomacy, expect North Korea to continue to attempt to undermine the alliance.
Kim Jong Un to South Korea?
Kim mentioned that he hopes to meet the South Korean leader frequently in 2019. Currently, the focus of summitry is on the second Trump-Kim meeting, reportedly taking place in the middle of February. The next inter-Korean summit is expected sometime after.
Plans for Kim to visit Seoul by the end of 2018 never materialized, and a trip by the North Korean leader to the South Korean capital would be an extremely challenging undertaking. However, difficult though it may be, expect both sides to find any way to make the visit to the South work.
Moon and Kim have established a rapport and produced meaningful declarations in regards to the Korean Peninsula, not to mention the political benefits each side enjoys through summits. North Korea would gain a priceless propaganda coup with its leader being hosted as an honored guest in the South. For Moon, he must keep his seat at the high stakes table as North Korea is spreading its diplomatic wings through meetings with the leaders of the United States, China, and possibly Russia.
Therefore, the two sides may explore an alternate location, such as the South Korean island of Jeju. Much less populated than the bustling capital, Jeju is more accommodating to the immense logistics required to host the highly controversial North Korean leader.
The diplomacy of the past year was groundwork for what Moon and Kim hope to be a new era in inter-Korean relations. But now the trial period is over, and the two sides must continue to seek areas of cooperation and express patience when progress is stalled. It will take a mutual effort to make sure the diplomatic seeds planted in 2018 weather the potential storms and yield fruit in 2019.
Nate Kerkhoff holds a Master's degree in Global Affairs from Yonsei University in Seoul and is a Young Scholar at the Pacific Forum.