Taiwan-Japan Fishing Dispute Heats Up
Taiwan sends Coast Guard and military vessels to enforce its right to fish in what Japan claims as its EEZ.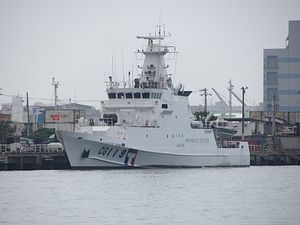 As if Asia didn't have enough maritime disputes, add one more to the list. Taiwan and Japan are in the midst of a diplomatic spat over the Okinotori Islands – or perhaps more properly the Okinotori atoll. In fact, the question of whether or not Okinotori is an island or simply a rock is central to the current tensions.
Okinotori is an uninhabited reef that is reportedly only above water at high tide – and then only thanks to concrete and steel reinforcements installed by Japan. According to Foreign Policy, the parts of the atoll that are above the water at high tide are "hardly larger than a pair of king size beds." Yet Japan considers Okinotori, which is located roughly halfway between Taiwan and Guam, to be a proper island. Taiwan – along with China and South Korea – do not.
This is more than mere semantics; an island is entitled to a 200 nautical mile exclusive economic zone under international law, while a rock is not. The EEZ around Okinotori would amount to over 400,000 square kilometers  — "an area larger than the entire landmass of Japan," as the Wall Street Journal pointed out in 2005.
China first challenged Japan's description of Okinotori as an island in 2004, arguing that it is merely a rock and thus not entitled to an EEZ. In return, Japan doubled-down by constructing a heliport and installing radar on the feature. Shintaro Ishihara, then the mayor of Tokyo, even traveled to Okinotori for a flag-raising photo-op in 2005. Japan also began considering building a lighthouse or even a port on the feature to strengthen its claim that Okinotori is more than a rock.
If this all sounds familiar to Diplomat readers, it may be because these same questions – the status of a mostly-submerged reef under UNCLOS – are central to the Philippines' case against China in the South China Sea. And China's response — reclaiming thousands of acres of land on features Manila argues are properly LTEs or rocks — is similar in spirit, if widely divergent in scale, from Tokyo's reaction to the challenge over Okinotori's status.
The Okinotori islands vs. rock question flared up again on April 25, when Japan's Coast Guard detained 10 Taiwanese fishermen 150 nautical miles from Okinotori, inside what Tokyo claims as its EEZ. In response, Taiwan's Coast Guard Administration issued a statement calling the area "international waters" and saying that "Japan has no right to ban our fishing boats from the area." The fishermen were released after a security deposit of 6 million yen (roughly $54,000) was paid, with assistance from Taiwan's government.
Taiwan then summoned the Japanese representative in Taipei, Mikio Numata, to register formal complaints. Taiwan's foreign minister, David Lin, told Numata that Japan should respect Taiwan's right to fish in the area. He also "strongly protested" the arrests of the Taiwanese fishermen, saying it violated the spirit of the UN Convention on the Law of the Sea.
On Friday, Taiwanese President Ma Ying-jeou accused Japan of violating the rights of fishermen (from Taiwan and elsewhere) by claiming an EEZ around Okinotori. Ma said that, as the feature cannot sustain human life or habitation, it should not be entitled to an EEZ. He added that he had asked Taiwan's Ministry of Foreign Affairs to resolve the case, but if those efforts were unsuccessful, Taiwan would consider seeking international arbitration. According to Taiwan's government, over 100 Taiwanese fishing boats operate in the area each year.
In turn, Japan lodged a counter protest against Taiwan for not recognizing the Okinotori EEZ. Japan's foreign minister, Fumio Kishida, told reporters, "Under the U.N. Convention on the Law of the Sea, [Okinotori Island's] status as an island is established. Japan cannot accept the Taiwanese side's claims."
Last week, Ma also instructed Taiwan's Coast Guard Administration to take steps to protect Taiwanese fishermen's access to the area. On Sunday, a Taiwan Coast Guard patrol ship as well as a Fisheries Agency ship left Taiwan, bound for the waters around Okinotori. They will reportedly be deployed in the area for a month.
The two patrol ships were followed by a naval vessel, reportedly a Lafayette-class frigate. According to Taiwan's Central News Agency, a military source said that the frigate "will not appear on the front line, though it can quickly come to the rescue in the event of any contingencies." A frigate will remain in the area near Okinotori until the end of May, according to the source.
Military spokesman Luo Shou-he said that Taiwan generally follows the principle of the "Coast Guard protecting fisherman, and the Navy supporting the Coast Guard."
The deployment of Taiwanese government vessels to the area sets the stage for a potential confrontation should the Japan Coast Guard attempt to seize another Taiwanese fishing vessel near Okinotori. However, there may be hope for a diplomatic solution – in 2013, Taiwan and Japan signed an agreement allowing both sides access to fishing grounds near the Senkaku/Diaoyutai Islands, which are claimed by both parties (as well as Beijing, which calls them the Diaoyus). There's no dispute over control of Okinotori; simply over its classification under UNCLOS.
Meanwhile, China chimed in on the dispute last week, reiterating its position that Okinotori is merely a rock. "As prescribed in the UNCLOS, rocks like Okinotori which cannot sustain human habitation or economic life of their own shall have no exclusive economic zone nor continental shelf," Foreign Ministry spokesperson Hua Chunying said on Friday. "Japan has violated the UNCLOS by categorizing Okinotori as 'island' for the purpose of claiming for EEZ and continental shelf based on that. China does not recognize the illegal assertion by Japan."
Claiming and enforcing an EEZ around "an isolated rock … far away from the homeland," to the protests of neighboring states — perhaps China and Japan have finally found something they have in common.