To Counter Beijing, Japan Moves Closer to Taiwan
Rumors of a Japanese Taiwan Relations Act hint at a possible strategy to court Taipei at Beijing's expense.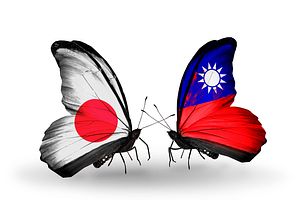 A report from Kyodo News International says that lawmakers from Japan's Liberal Democratic Party (LDP) are trying to create a Japanese version of the Taiwan Relations Act, the U.S. law that governs Washington's relations with Taipei. Japan does not have diplomatic relations with Taiwan, but the proposed law would seek to formalize the current unofficial ties. Specifically, the law would create "a basis for strengthening economic relations and personal exchange" with the island. The law is championed by Japan-Taiwan Young Parliamentary Association on Economic Exchange, a group chaired by Nobuo Kishi, who happens to be the younger brother of Prime Minister Shinzo Abe. It's unclear how broad of political support the new law would have or what the specifics would be.
Despite this, China wasted no time expressing its displeasure. Foreign Ministry Spokesperson Hua Chunying told reporters that China was "deeply concerned" by the news. "The Taiwan Question concerns China's core interests. Whether Japan-Taiwan relations can be properly handled or not has a bearing on the political foundation of China-Japan relations," Hua said. She added that China was "firmly opposed" to the "attempt to strengthen Japan-Taiwan relations." An article by China's state media organization Xinhua summarized Hua's remarks, further reiterating China's opposition to the move.
Calling the act the "Japanese Taiwan Relations Acts" is a bit misleading (and possibly intentionally provocative on Japan's part). The U.S. Taiwan Relations Act is most famous for providing the justification for regular U.S. arms sales to Taiwan. Current reports indicate Japan's bill would be restricted to furthering economic and cultural ties, avoiding the hot-button issue of defense partnerships with the island.
The idea of a Japanese bill to expand Taiwan relations is not new. Taiwanese President Chen Shui-bian called for such a law back in 2006. Chen's idea for the act specifically mentioned security elements. "We'd like to see a strategic dialogue mechanism set up between the two countries," he said, adding that he hoped a Japan-Taiwan partnership could make an important contribution to regional security and stability. Current president Ma Ying-jeou has not repeated these calls, but he has described Taiwan's relationship with Japan as a "special partnership" characterized by great warmth.
The 2014 vision for Japan's own "Taiwan Relations Act" is more focused on economics, which accords with the domestic political needs of both Shinzo Abe and Ma Ying-jeou to shake off sluggish economic growth. According to Japan's Ministry of Foreign Affairs, Taiwan is Japan's fifth-largest trading partner, and Japan is second only to China as Taiwan's largest trading partner. Deepening economic cooperation would be beneficial for both—and could also have political benefits. Highlighting Japan-Taiwan cooperation serves as a pointed counter-narrative to worsening China-Japan ties.
Despite the messy legacy of Japanese colonialism in Taiwan, popular sentiment towards Japan is positive overall. According to a July 2013 report published by Japan's Ministry of Foreign Affairs, 65 percent of Taiwanese feel either "close" or "really close" to Japan. Compare that to mainland China, where over 90 percent of Chinese have either an "unfavorable" or "relatively unfavorable" impression of Japan.
Notably, Japan and Taiwan have also worked together to lessen tensions over the disputed Diaoyutai/Senkaku Islands. Like mainland China, Taiwan's government claims sovereignty over the islands. In April of last year, Taiwan and Japan came to a compromise in the form of a fisheries agreement that will allow Taiwanese fishing boats access to waters near the disputed islands. Under the agreement, both sides shelved the territorial dispute and will cooperate to access fishing resources in the area—exactly the same sort of solution some experts have recommended for handling China and Japan's dispute.
The timing of the fisheries agreement was interesting. Taiwan and Japan had been negotiating since 1996, but the agreement was finally concluded at a time when Tokyo's dispute with Beijing over the islands was reaching new levels of discord. Concluding an agreement at that time was good PR for both Taipei and Tokyo. Japan's government could point to the agreement as evidence that it is willing to implement diplomatic solutions, implying that China bears the blames for lack of similar progress. Meanwhile, Taiwan could remind the world of its claim to the islands, even while trying to stake out a larger political and diplomatic presence in the region. Ma Ying-jeou, used the agreement as a chance to highlight his "East China Sea Peace Initiative."
A Japanese bill strengthening ties to Taiwan could have similar political dividends. It could help Japan's government counter China's claims that it seeks a return to militarism, while simultaneously providing another example of "standing up to China" for the domestic audience. Japan's Foreign Minister, Fumio Kishida, underlined last year that Japan-Taiwan ties are based on "our shared fundamental values of democracy, freedom, and peace." Under that formula, expanding relations with Taipei helps bolster Tokyo's claim that Beijing is the problem driving regional tensions.
Conversely, Ma Ying-jeou's administration could use closer ties with Tokyo to lessen Taiwan's economic dependence on China. It would also help Ma counter accusations from political rivals that he is unwilling to cross Beijing, or that he actively seeks to make Taiwan dependent on China as a precursor to unification.