Vietnam to Receive 2 Russian Anti-Submarine Warfare Ships in 2016
A Russian shipyard will deliver two new frigates to Vietnam in the summer.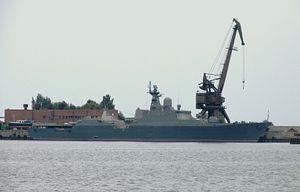 Russia's Zelenodolsk Shipyard plans to deliver two newly built Project 1166 Gepard-class frigates with a stealth-enhanced ship design to the Vietnam People's Navy in August and September 2016, TASS reports.
"We are currently building two ships for Vietnam. The first frigate has already been put afloat. The second vessel will be floated out on May 25," the director general of Zelenodolsk, Renat Mistakhov, said, according to TASS. "We will deliver the two frigates to Vietnam in August and September."
The Vietnam People's Navy (VPN) already operates two Gepard-class ships, the Dinh Tien Hoang (HQ-011), commissioned in March 2011, and the Ly Thai To, commissioned in August 2011. The Gepard-class frigates "have proved their efficiency," according to the Deputy Chief of the General Staff of the Vietnamese People's Army (VPA) General Pham Ngoc Minh.
The two latest vessels of the Gepard-class will be fitted with an enhanced anti-submarine warfare suit, including two twin 533 milometer torpedo tubes, depth charges, and an RBU-6000 12-barreled anti-submarine rocket launcher. The ships also feature modern electronic warfare and sonar suits, and a flight deck that can accommodate a Ka-28 or a Ka-31 Helix naval helicopter.
The 1,500-ton Gepard-class frigates will also be armed with the Uran-E shipborne missile system firing Kh-35E anti-ship missiles, a 76.2 mm AK-176M gun, as well as two fully-automated AK-630M 30 mm gun systems used for protection against enemy anti-ship missiles.
Furthermore, the ships will be equipped with the Palma anti-aircraft gun-missile system consisting of two 30 mm six-barrel AO-18KD/6K30GSh automatic cannons and up to eight Sosna-R laser-guided hypersonic surface-to-air missiles.
The two new vessels are slated to begin basin trials soon. Mistakhov confirmed in April that the propulsion systems (likely a combined diesel or gas propulsion system comprising two gas turbines and a Type 61D Diesel engine) have been installed and related electrical work completed, according to IHS Jane's Defense Weekly.
This appears to negate statements made by Zelenodolsk Shipyard representatives last year that Ukraine's decision to halt delivery of gas turbine engines to Russia would delay construction of the Gepard-class by a year, as The Diplomat reported:
 In June, shipyard authorities admitted that the Ukraine problem resulted in the setback of delivery schedules of the frigates by a year – to 2017 and 2018 instead. They also conceded that propulsion for the Gepard-3.9s was in the process of being obtained from alternative sources through the Vietnamese government.
The alternative source sought out by the Vietnam was purportedly Germany. However, it is unclear how far negotiations progressed. Russia has been pushing to indigenously produce M90FR gas turbine engines for its surface warships and awarded a contract to NPO Saturn, a Russian aircraft engine manufacturer, to produce and test the M90FR turbine engine by 2017 (See: "How the Ukraine Crisis Interrupts Putin's Naval Dreams").