Are China and North Korea Trying to Restart Stalled Ties?
Recent high-level bilateral talks between the two partners suggest Pyongyang may be looking to mend ties.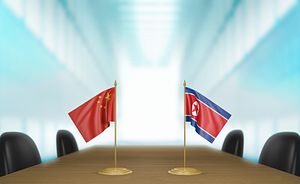 Ri Su-yong, a member of the North Korean Workers' Party political bureau and the country's now-former foreign minister, led a delegation to Beijing for high-level bilateral meetings with Chinese officials on Wednesday. Ri's delegation met with Chinese President Xi Jinping and State Councilor Yang Jiechi on Wednesday, and also met with Song Tao, a top Chinese Communist Party official, on Tuesday. According to Xinhua, Ri delivered an "oral message" from Kim Jong-un, North Korea's supreme leader.
The visit is notable as the first high-level bilateral interaction between China and North Korea this year. It comes after Chinese acquiesced to unusually harsh international sanctions against North Korea under the rubric of United Nations Security Council resolution 2270 (UNSCR 2270), which was adopted after Pyongyang detonated a fourth nuclear device in January. Ties between China and North Korea have steadily declined since late 2013.
Notably, Xinhua, China's state-run newspaper, neglected to mention nuclear issues or the issue of sanctions in its report on the meeting between the two sides. Nominally, the meeting is being presented as a courtesy briefing by North Korea for Chinese officials on the accomplishments of the recent Korean Workers' Party Congress, the first event of its kind to take place since 1980.
Xinhua notes that Xi "welcomed the delegation, saying the visit was evidence of the tradition of strategic communication between the two parties on major issues." This implies that both sides broached the uncomfortable topic of sanctions. For North Korea, even though China acquiesced to UNSCR 2270, a slackening of sanctions enforcement by China could go a long way.
Indeed, as Kim Jong-un may look to realize his byungjin line of economic development in parallel to a credible nuclear deterrent, he will need China to leave certain doors open. Informed tea leaf-reading of the Workers' Party Congress suggests that North Korea may be pivoting in the direction of bolder economic reforms. Without some degree of resuming working ties with China—North Korea's oldest ally and historic benefactor—any reforms would be dead in the water.
Though this meeting appears to suggest that Pyongyang is interested in steering its ties with China back on course, it curiously hasn't chosen to send a higher-level envoy than Ri. For instance, Kim Yong-nam, North Korea's ceremonial head of state and effective prime minister, was in Beijing less than two weeks ago on his way to Equatorial Guinea, but apparently met no Chinese officials in transit.
Stalled Bilateral Ties
The last serious high-level attempt at talks between North Korea and China took place in October 2015, when Liu Yunshan, a member of the Chinese Communist Party's Politburo Standing Committee, visited Pyongyang on the occasion of the 70th anniversary of the founding of the Korean Workers' Party. During that visit, Liu hand-delivered a letter from Xi Jinping, addressed to Kim Jong-un.
Shortly after Liu's visit and the 70th anniversary celebrations, a touring North Korean pop group with close ties to the Kim regime, the Moranbong Band, cancelled a scheduled tour in China, on the heels of a breakdown in inter-Korean talks.
In February 2016, after the nuclear test but before the launch of the Kwangmyongsong-4 satellite, Wu Dawei, China's top representative to the defunct Six-Party Talks on denuclearization on the Korean peninsula, arrived in Pyongyang in a surprise visit. Both sides confirmed that Wu was in Pyongyang to "exchange views" with North Korean officials.
In what some analysts saw as a major snub from Pyongyang to Beijing, the North Korean satellite launch went ahead days later, demonstrating that attempts by Beijing to pull Pyongyang back from its brinkmanship were ineffective. A month later, with China's acquiescence, the Security Council unanimously adopted UNSCR 2270.
For more on the decline of ties between North Korea and China, listen to a podcast with Adam Cathcart, recorded in September 2015.