Kim Jong-un's China Reset Continues With Senior CCP Official's Visit
The Chinese Communist Party's International Liaison Department head visited Pyongyang and met Kim Jong-un.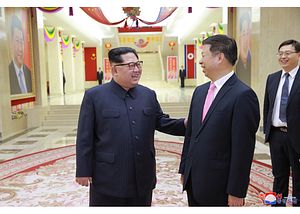 North Korean leader Kim Jong-un's diplomatic reset with China continued last week as a major Chinese cultural delegation, accompanied by a senior Chinese Communist Party official, visited Pyongyang.
Song Tao, the head of the Party's International Liaison Department, led the visit, which came weeks after Kim visited Beijing. Kim's visit to China was his first trip outside of North Korea since becoming leader in December 2011.
In Pyongyang, Kim hosted a reception banquet for the Chinese delegation. Images carried in North Korean state media showed Kim and Song laughing and exchanging remarks; KCNA, North Korea's outward-facing state media, noted that the two sides resolved to "to more beautifully decorate the flower garden" of their relationship.
According to KCNA, Song and Kim discussed bilateral issues and the "international situation." Kim's outreach to China has accompanied simultaneous outreach to South Korea and the United States.
The North Korean leader will meet with South Korean President Moon Jae-in for the third-ever inter-Korean summit at the end of the month. Kim is also slated to meet U.S. President Donald J. Trump in May for what will be the first U.S.-North Korea summit meeting.
The visit of the art troupe to North Korea showed follow-up on one of Chinese President Xi Jinping's "four proposals" for China-North Korea relations, which Xi proposed after his meeting with Kim.
Xi, according to Chinese state media, noted that the two sides should work to "cement the popular will foundation for China-DPRK friendship" through a range of activities, including "people-to-people exchanges."
Song had visited Pyongyang in late 2017 as Xi's special envoy to brief officials in North Korea's ruling Workers' Party on the outcomes of China's 19th Party Congress.
During that trip, however, he did not meet Kim Jong-un. Days after Song's trip in November, North Korea carried out its first-ever launch of the Hwasong-15 intercontinental-range missile, its most powerful missile tested to date.
A spokesperson for China's Ministry of Foreign Affairs had noted that Song's November 2017 trip to North Korea was part of "a long-standing tradition between the Communist Party of China and Communist Party of other socialist countries including the Workers' Party of the DPRK."
Though it appears that relations between China and North Korea, two traditional partners, are quickly improving, Beijing remains publicly committed to the cause of denuclearizing the Korean Peninsula.
As Song's delegation left Pyongyang, Chinese Foreign Minister Wang Yi arrived in Tokyo to discuss a range of bilateral and regional matters, including the Korean Peninsula, with his counterpart Taro Kono.