China-India Relations After the NSG Plenary
Make no mistake: India's failure to win membership in the NSG will shape Sino-Indian relations.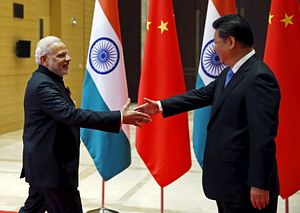 Few analysts following developments at the Nuclear Suppliers Group (NSG) plenary in South Korea expected India's membership bid to sail through. As the dust settles, what is clear is that Xi Jinping's China differs considerably from Hu Jintao's China. The latter did not want to stand alone; the former is on the path to establishing China as the challenger in the global order – and understands that such a project is necessarily a lonely pursuit.
Beyond the arguments of whether or not joining the NSG accords India additional advantages, what stood out over the past month is the Modi government's impressive ability to set a concrete objective, and pursue it with great coordination. While Foreign Secretary S Jaishankar was leading India's charge in Seoul, the prime minister himself brought up the issue with Xi in Tashkent. This ability to strategize and cogently act is a key takeaway and must be utilized moving forward.
For India, what transpired in Seoul is much more than just a reflection of China's attitude towards India's aspirations – it is about how India is seen as a power by others around the globe. While China raised the bogey of "due procedure," some others reportedly saw logic. Some among them, like Switzerland had promised support to India as recently as a few weeks ago; others included Brazil, India's partner in BRICS.
While this is not the first time that China has taken a stand inimical to Indian interests, this time is markedly different. It is now unequivocally clear that China objects to Indian aspirations of being a bigger player in the global order. There are indications that it is concerned about how India will react – the Chinese Foreign Ministry has unilaterally claimed that developments in the NSG meeting won't affect the relationship. In the NSG meeting though, it expended little political capital blocking India.
The challenge ahead for India then, is two-fold: First, manage the relationship with China, which is likely to begin immediately. For example, in multilateral forums where the two work together, such as BRICS, the Shanghai Cooperation Organization, climate talks, or the World Trade Organization, India will be especially cognizant that China will pursue a strategy to primarily benefit itself. It is likely that Indian representatives will be extra vigilant against making concessions, and pursue their own negotiations, possibly independent of China's initiatives.
This brings us to the second challenge: The need to project the image of a confident India by removing ambivalence about how it sees its place in the world. Going by reports from Seoul, there is work to be done on this front. India has no time to be coy and equivocal anymore; to be granted exceptions, it will have to demand them as a principal rising power in the 21st century. India may be less powerful than China economically and militarily but it will continue to be a substantial power throughout the coming years. Additionally, its enduring appeal will continue to be in its democratic policy, and the fact that it allows a multiplicity of views and opposing political opinions. If Modi indeed believes all that he says about India's stature in the world, it needs to reflect not only in his speeches, but also in his foreign policy.
For India to accomplish this, two prior conditions need to be fulfilled. First, the economy must be allowed to grow at the current pace without systemic shocks. Second, as anyone with the slightest exposure to Indian foreign policymaking knows, the country has been its own greatest enemy by being hesitant and postponing taking hard decisions. While changing this overnight is difficult, the foreign policy elite will now need to act decisively, and cease fence-sitting. Only by presenting itself as a smart and confident power in the its neighborhood will India be able to come across as a sure-footed global player.
The Way Forward
To begin with, India will have to understand that China's approach to foreign policy based on the concept of leverage. During Rajiv Gandhi's seminal 1988 visit, China signaled that it was keen on developing the relationship without working to resolve the border issue immediately. China believed that India was keen to resolve the matter, which it gave it leverage. It is now incumbent on India to do the same by inserting itself in situations where China has high stakes – situations that challenge its aspirational move toward the top of the global order. India must do this with finesse, ensuring it does not spite China directly. For one, rebuilding the relationship since the 1980s has been useful in many aspects (like managing the border question) – letting all that slip is unwarranted. Second, unlike other powers, most notably the United States, India occupies the landmass contiguous to China, which comes with an additional motivation to calibrate its actions. With these caveats in place, India should approach its China policy with eye on three timeframes: immediate, mid-term, and long-term.
The Short Term
In the immediate term India must not lose any opportunity to integrate itself with China's neighborhood in Asia. An opportunity is going to present itself in early July when the verdict for the Philippines' arbitration case on the South China Sea comes out. India must utilize the opportunity to integrate itself with Southeast Asian nations and squarely back the rule of law and international norms. India must emphasize that the question of "due procedure," used with great dexterity by China in Seoul, cannot be applied selectively.
It must also once and for all abandon the question of maintaining equal distance from the United States and China. As is evident, as a big, rising economy, India is unlikely to get concessions that China benevolently doles out to smaller players in the region. Under these circumstances, India must step up its cooperation with the United States. This does not necessarily mean losing its ability to make independent policy decisions – as the last decade and a half has demonstrated, the Indian establishment is capable of maintaining strategic autonomy in policymaking while stepping up engagement with the United States.
While the NSG plenary meeting was underway, the Indian finance minister was in Beijing seeking Chinese investment. Established processes like this, including the functioning of frameworks set in place for issues like trade or border management, must continue seamlessly. Simultaneously though, India can start remedying its vast trade deficit by introducing non-tariff barriers against unimportant items, and gradually expanding the list. It can instead ramp up Chinese investment in the country in big projects, such as in the infrastructure sector, developing leverage in the process by tying them to Chinese support for India on important international issues.
The Medium Term
In the medium term, India needs to understand that while its non-ascension to the NSG fits Pakistan's agenda, China's actions are primarily to maintain and advance its own superiority. With this is context, India must vigorously de-hyphenate itself from Pakistan while elaborating on its place in the global order to other countries. This would mean desisting from mentioning Pakistan as a comparative example at all times. The threat from terrorism emanating out of the country into the region notwithstanding, few aspects of India's rise have to do with Pakistan anymore. If India's policymakers need to bring up a neighbor while discussing regional ambitions, it must be China. This will serve two purposes: One, it will further integrate India with the larger concerns in the Asia-Pacific. More importantly, followed rigorously, this will amply elucidate to other countries where India's priorities lie – in being a rising power in the region where the other competitor is China. For this to be achieved, India will need to coordinate its signaling carefully – in private as well as in public.
The coming months are likely to see increases Indian activities in the Indo-Pacific. The navy has been directed to conduct more joint exercises with navies in Southeast Asia as part of its Act East policy. This comes right after the annual U.S.-India Exercise Malabar that now permanently includes Japan. It has recently established a two-plus-two dialogue mechanism with Japan, and this would be an appropriate opportunity to set up similar mechanisms with other countries. The Indian navy has recently stated its objective of shaping "a favorable and positive maritime environment, for enhancing net security in India's areas of maritime interest."
An inexpensive way of accomplishing this is by expanding military and political ties with players in the region. India already maintains and repairs Vietnamese defense platforms, and has been training its pilots. With the latest developments, indications are that New Delhi might finally move forward on selling supersonic Brahmos cruise missiles to the country. Additional security arrangements are underway – the Thai prime minister's visit earlier in June was marked by agreements to cooperate in defense and maritime areas. The Singaporean prime minister and Indonesian president are also scheduled to visit in the next few months with similar agendas.
The Long Term
The longer term measures are obviously ones that will require the most effort as well as administrative and political capital. The primary strategy in this lies in exploiting China's discomfort over the Tibet question. India must quietly integrate Tibetan leaders into its national narrative, as it did by inviting the prime minister of the Tibetan Government in Exile to Narendra Modi's inauguration, or the way ministers shared the stage with the Dalai Lama for his 80th birthday. In the longer run this will allow it to have a greater say during the likely turmoil in the post-Dalai Lama scenario.
India must work to socially, politically, and economically integrate Arunachal Pradesh and other parts of northeast India with the rest of the country. This will mean developing infrastructure in the border with China along with sustained efforts to improve education and employment opportunities in the region as a whole. Considering the extent to which former Indian Prime Minister Manmohan Singh's visit to the state displeased China, the process can begin with continuing visits by Modi. Nothing will peeve China more than seeing a content and prosperous "South Tibet" as part of India. At the same time, it will send out a positive message about Indian state capacity.
Deep Pal is a Non-Resident Fellow at the National Bureau of Asian Research, and a doctoral student at the Henry M. Jackson School of International Studies, University of Washington. The views expressed are his own and do not necessarily represent the views of the organizations. Deep can be followed on Twitter @DeepPal_