Crimea and the South China Sea: Russia and China Grasp for Support
Only a handful of countries side with both Moscow and Beijing on their respective controversial territorial claims.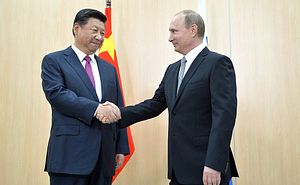 In late May, Beijing offered a startling announcement. According to Foreign Ministry spokesperson Hua Chunying, "more than 40 countries" have offered support for China's claims in the South China Sea. The pronouncement, viewed in the context of the upcoming decision from an arbitral tribunal in The Hague regarding the case brought against China's sweeping claims to the South China Sea by the Philippines, stands at the fore of China's campaign to stir up international support beyond the immediate region, which has seen governments from Malaysia to Vietnam array themselves in opposition to China's claims.
That list of over 40 countries, however, has remained suspiciously private. The lack of publication may have something to do with the fact that a handful of countries — including Slovenia and Fiji — have pushed back against China's claims of their supposed support. The statement from Fiji, for instance, outright noted that Fiji "does not support China's proposition on the issue of the South China Sea," according to Fiji Broadcasting Corporation.
Still, there are a few states that have remained willing to lend their weight to supporting Beijing — and a handful that have done so after backing Russia's claims to Crimea. Indeed, three countries — Afghanistan, Belarus, and Kyrgyzstan — have publicly offered support for both Moscow's and Beijing's challenges to international border sovereignty.
To wit, according to an April statement from the Chinese Ministry of Foreign Affairs, "Kyrgyzstan fully understands and supports China's just stance on the South China Sea issue, and is willing to continuously deepen cooperation in various fields with China." Kyrgyzstan's position on the South China Sea mirrors its stance on Crimea, whose 2014 faux-referendum Bishkek believes represented "the views of the region's absolute majority[.]" A May statement from a Chinese Foreign Ministry official, meanwhile, noted that Afghanistan "support[s] China's position on the South China Sea issue and support[s] China's efforts to resolve the South China Sea issue through bilateral channels and through peaceful means such as negotiation and consultation." Kabul's position follows March 2014 statements from former Afghan President Hamid Karzai, who backed Moscow's claims to Crimea. And two years after Belarus sided with Russia in a UN vote on upholding Ukraine's sovereignty — a move Belarus has since tried to walk back — China's Ministry of Foreign Affairs noted that Minsk "firmly supports China's principled stance" on the South China Sea.
None of these states, of course, are especially surprising as it pertains to backing China's position. Kyrgyzstan's and Afghanistan's dependencies on Beijing's largesse have been well-documented. Even Belarus, without any shared border with China, has come to rely on Chinese investments. Last year, for instance, The Diplomat's Shannon Tiezzi tabbed Belarus as China's "gateway to Europe," with Minsk enthusing about China's Silk Road Economic Belt.
While Kyrgyzstan, Belarus, and Afghanistan are the lone nations explicitly linked to both Crimean and South China Sea recognitions, there's an argument that a handful of others have backed the two claims. Both Kazakhstan and Sudan have called for a "peaceful" resolution in the South China Sea issue, and avoided pushing for Beijing to respect The Hague's forthcoming decision. Likewise, in late May, Shanghai Cooperation Organization Secretary-General Rashid Olimov issued a statement emphasizing bilateral resolution, rather than internationalized mediation, tacking Russia toward Beijing's position. For good measure, Russian Foreign Minister Sergey Lavrov emphasized Moscow's desire "to see disputes resolved directly between the countries involved … without any interference from third parties or any attempts to internationalize these disputes." Such position was emphasized that much further at this week's SCO defense ministers meeting.
As such, if we're being generous, a total of six nations – Russia, Kazakhstan, Kyrgyzstan, Sudan, Belarus, and Afghanistan – have offered support for both Moscow's claim to Crimea and Beijing's claim to the South China Sea. That's not to say that number won't change; considering that the few nations recognizing Moscow's land-grab in southern Ukraine include North Korea, Venezuela, and Syria, more nations yet may swing toward supporting Beijing outright. But at present, support for a Moscow-Beijing axis challenging post-Westphalian border sovereignty effectively remains relegated to client-states. These states – most especially Kyrgyzstan, Belarus, and Afghanistan – may offer their rhetorical support to both Russia and China, but they remain far from the bellwethers Moscow and Beijing would hope for.