Gazprom Plans $1.5 Billion Investment in Kyrgyz Gas Pipelines
Russian PM Medvedev's visit underscored strong Kyrgyzstan-Russia relations, perhaps smoothing recent frustrations.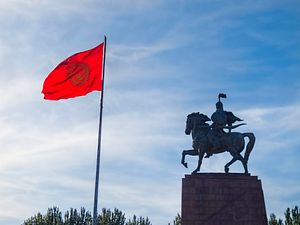 Russian Prime Minister Dmitry Medvedev is in Kyrgyzstan this week on a two-day visit to attend a meeting of the Commonwealth of Independent States (CIS) heads of state. But first, he held meetings with his hosts in Bishkek, President Almazbek Atambayev and new Prime Minister Sooronbay Jeenbekov.
The meetings underscored the strong Kyrgyzstan-Russia relationship, perhaps smoothing over Atambayev's frustrated comments at last week's gathering of Eurasian Economic Union heads. Some in Kyrgyzstan have depicted the EEU–in which Russia is the driving force–in a rather pessimistic light. Atambayev, in the same breath as stating that he believes in the EEU, also said "we had no other alternative."
This week, Atambayev lavished Medvedev with praise. "When I officially took office as the president, you have been the president of Russia for more than three years," he said, according to 24.kg reporting. "I remember you were trying to help me from our first meeting. And later, when you became the prime minister, you treated me and Kyrgyzstan with great warmth and friendliness." The praise came with a prize, the Danaker Order, for "significant contribution to the development of bilateral relations." (Chinese Minister of Foreign Affairs Wang Yi and Minister of Commerce Gao Hucheng were given the same award in May in conjunction with the completion of a power transmission line).
"Strengthening of the strategic relationship with Russia is one of the foreign policy priorities of the Kyrgyz Republic," Jeenbekov said. Jeenbekov assumed the prime minister's seat in late April after his predecessor, Temir Sariev, resigned amid a corruption scandal involving a Chinese contractor and a road project.
The take-away deal from the bilaterals–news that Russia's oil giant Gazprom plans to invest $1.5 billion in Kyrgyz pipelines by 2030–also may go some ways to smooth over frustration stemming from Russia's inability to finance hydropower projects in Kyrgyzstan.
At the start of the year, Bishkek released Russia from agreements to fund $3.2 billion worth of hydropower projects–namely the Kambarata-1 dam and the Upper Naryn cascade (comprising four smaller dams). Kyrgyzstan was careful not to sound too critical of Russia for its inability to fund the projects, but at the same time recognized the fundamental need to move on to courting other funders. As Cholpon Orozobekova noted in a piece for the Jamestown Foundation recently, the plans to expand Kyrgyzstan's hydropower capacity are fundamental to making CASA-1000 happen and "CASA-1000 is crucial for Kyrgyzstan."
Certainly, there are significant differences between the scrapped hydropower financing and the planned pipeline investments. Though both relate to energy projects, their scope and purpose are different. Notably, the former would have helped Kyrgyzstan integrate southward and the latter further links the state into Russia's networks. The amount of investment in the pipelines is also half what Russia was committed to for the hydropower projects.
In 2014, Gazprom bought Kyrgyzstan's natural gas distribution system for a symbolic $1. Contrary to what some hoped, that didn't stop Gazprom from threatening to cut off supply. As recently as February 2016, Gazprom was threatening to suspend supplies over the failure of a Kyrgyzstan-based, German-owned plate glass manufacturer to pay its debts. The threat was retracted shortly after it was made but the point stands: Gazprom central can't be tremendously happy with its Kyrgyz arm. Nonetheless, in April Gazprom lowered prices for Kyrgyzstan–from $165 per 1,000 cubic meters to $150.
It'll be years before we can assess whether the just-announced Gazprom investments are more than just talk. Meanwhile, Kyrgyzstan will continue to try and benefit from what funds Russia can spare. Aside from China, there are few investors of significant size likely to step in when Russia stumbles.