Cancel Culture Hits Central Asia's Concert Scene
How should we interpret the recent cancellations of a number of planned concerts by Russian performers in the region?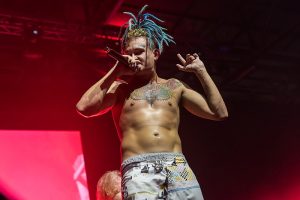 Russia's invasion of Ukraine in February 2022 has changed the flow of music performances, sending an increasing number of Russian, Ukrainian, and Western singers to Central Asia. In June, concerts by Russian performers planned in Kazakhstan, Uzbekistan, and Kyrgyzstan were canceled. The range of actors responsible for the concert cancellations and their motivations for doing so complicate a simplified narrative about Central Asian states being Russia-friendly or wary.
In Kazakhstan, social media users made enough noise to cancel a concert by Grigory Leps that was scheduled for early July at a luxury resort near Almaty. Leps, who has vocally supported Russia's war in Ukraine and performed in occupied Donbas territory, has been dubbed a turbopatriotic "Z-artist."
Kazakh political scientist Dosym Satpayev tweeted about Leps' canceled concert, observing that it was "another confirmation of the fact that if authorities do not want and are afraid to create a list of persons non grata, which we have called for for a long time, then this mission was undertaken by the civil society of Kazakhstan." 
Bottom-up pressure affected another one of Leps' musical events. Leps was one of the founders of the Zhara music festival, which was first held in Baku in 2016. The festival has floundered for several years, with COVID-19 disrupting the 2021 iteration and organizers obliquely referencing Russia's war in Ukraine as the reason for holding off in 2022. 
This spring, Zhara was moved to Tashkent after Azerbaijan and Kazakhstan passed on the festival. But after Uzbek blogger Mirzayor Erkinov organized a boycott of the festival because of headliners' backing of Kremlin propaganda and the war in Ukraine, the ticket sales company behind the festival postponed Zhara indefinitely.
Grassroots campaigns and public pressure have not been the only cause of concert cancellations in the region, however.
The Russian-Belarusian group Bi-2 was slated to perform in Semei on June 21, but local government officials canceled the event in deference to the emergency responders who died in massive forest fires in the region. The akimat made this announcement at 1 a.m. on Instagram the day before the concert, inviting sharp criticism of the government's shortsightedness.
Within a day, the akimat had deleted its Instagram post and the concert went ahead as planned, with proceeds donated to victims of the fire.
Bi-2 was supposed to come to Semei from Bishkek, where they had a concert scheduled for June 18. On June 15, the concert organizers announced that Bi-2's concert had been canceled "for reasons unknown to us." Analysis of the cancellation pointed to anti-war messages in the duo's music and public statements as potential explanations.
The organizers did not specify who exactly had ordered the concert to be canceled, but they did mention that their cooperation with Vi project kz – the group managing the Kazakh side of the tour – was "contrary to the legislation of the Kyrgyz Republic," suggesting possible issues with tax compliance. 
On June 17, Morgenshtern, one of the most popular – and controversial – Russian rappers, had a performance in Bishkek canceled by Kyrgyzstan's Ministry of Culture. The Ministry cited its "legal rights in the development of culture" in a letter to the organizers of Alga Fest, a recurring music festival that, after Morgenshtern's slot was nixed, announced it was postponing the other performances until later in the summer.
At a parliamentary faction meeting on June 16, Minister of Culture Altynbek Maksutov addressed concerns about Morgenshtern's performance. Maksutov nodded to an open criminal case against Morgenshtern in Russia as a reason to investigate his performance. Morgenshtern, whose real name is Alisher Valeyev, left Russia in 2021 after he was accused of dealing narcotics, which offered a convenient cover for punishing Morgenshtern for his open criticism of Putin and the government's corruption.
The Moscow Times spoke with an unnamed source close to the Kyrgyz parliament who pointed to the criminal proceedings as the reason for the cancellation. Other coverage of Morgenshtern's concert cancellation mentions the rapper's status as a "foreign agent," a designation the Russian government has given to many entertainers who openly condemn the war.
However, situating an explanation for Morgenshtern's canceled performance in the scheme of Kyrgyz-Russian relations risks overlooking dynamics internal to Kyrgyzstan and the government's efforts to legislate morality.
In July 2021, President Sadyr Japarov issued a five-year plan to remedy the country's "spiritual and moral crisis." A draft law on NGOs put forward in November 2022 enables state bodies to deny a group's registration if the name of the organization is considered to "offend morality, national and religious feelings of citizens." International watchdogs and local human rights organizations decried the draft law, citing concerns of restrictions on the freedom of expression.
Whether or not these concert cancellations were motivated by Kyrgyz authorities' diplomatic concerns, the practice of state bodies citing morality concerns to interfere in cultural events sets a worrying precedent.