India and the US Overcome the Hesitations of History
The Indian prime minister was at his best before the U.S. Congress.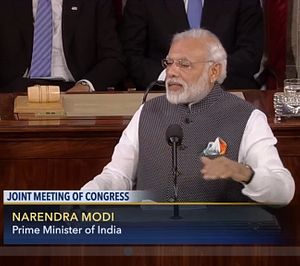 It was Narendra Modi at his best.
Once again, this Indian prime minister proved why he remains India's best ambassador. Modi's address to the joint session of the U.S. Congress on June 8 was a great mixture of wit, exuberance, and vision. He saluted the forces that bind India and the United States together even as he charted out a new vision of the future. And he could rightly proclaim that finally India-U.S. ties have "overcome the hesitations of history." It is his leadership that has managed to salvage India-U.S. ties from the morass they had sunk into during the last few years of the previous government. In just two years, Modi galvanized an ossified Indian bureaucracy and gave a new sense of purpose to India's engagement with the United States.
Modi's vision is not restricted to South Asia, but is in line with his thinking about making India a leading global power. He underscored this when he suggested to the U.S. Congress that "A strong India-U.S. partnership can anchor peace, prosperity and stability from Asia to Africa and from Indian Ocean to the Pacific. It can also help ensure security of the sea lanes of commerce and freedom of navigation on seas."
Without naming Pakistan, he commended the U.S. Congress "for sending a clear message to those who preach and practice terrorism for political gains. Refusing to reward them is the first step towards holding them accountable for their actions." Modi wants New Delhi and Washington to work together to isolate "those who harbor, support and sponsor terrorists, that does not distinguish between 'good' and 'bad' terrorists, and that delinks religion from terrorism."
Modi was aware of the criticism that his government had been facing in some quarters of the U.S. polity for its handling of religious minorities, which was underlined in the U.S. Commission for International Religious Freedom's annual report that claimed religious freedom in India was on a "negative trajectory" in 2015. Addressing his critics, Modi made it clear that for his government, "the Constitution is its real holy book. And, in that holy book, freedom of faith, speech and franchise, and equality of all citizens, regardless of background, are enshrined as fundamental rights." This was vintage Modi—not defensive but dealing with critics on his own terms.
He shared his "long and ambitious" to-do list with his American interlocutors to give them a sense of an increasingly ambitious, aspirational, and impatient India, even as he made it clear that "these are not just aspirations. They are goals to be reached in a finite time-frame. And to be achieved with a light carbon foot print, with greater emphasis on renewables."
The warmth with which Modi's address was received by members of the U.S. Congress is a tribute to the Modi government's deft handling of the United States and the underlying strategic convergence between the world's two major democracies. The joint statement issued by Modi and Barack Obama also captured the strategic sweep of the Indo-U.S. relationship. It included making India a "major defense partner" of the U.S. in technology transfer and a "priority partner" in the Asia-Pacific, asking other countries to support India's bid for admission to the Missile Technology Control Regime (MTCR) and the Nuclear Suppliers Group (NSG), and treating the Pathankot terror attack with the same level of seriousness as the Mumbai 26/11 terror attacks.
A separate joint document focusing on cyber security was issued and a funding initiative towards climate change was announced. There has also been some concrete movement on civil nuclear cooperation, with the decision by Westinghouse to set up six nuclear reactors in India. Against the backdrop of China's refusal to support India's entry into the NSG, the United States has called on all NSG countries to support India's application at the plenary meeting on June 24, even as India's imminent entry into the Missile Technology Control Regime (MTCR) has been confirmed.
LEMOA, or the Logistics Exchange Memorandum of Agreement, which allows each military to avail logistics support facilities of the other while on joint training, humanitarian assistance and disaster relief (HADR) missions, and port calls, is on its way towards finalization.
There is clearly much more that the two sides will have to work on, especially on India's integration into various multilateral economic groupings. And the challenge will be to keep the momentum going even after the change of administration in Washington. But as Modi surmised at the end of his address to the U.S. Congress, the "constrains of the past are behind us" and "there is a new symphony in play." This new symphony would not have been possible without a master conductor. Modi deserves all the credit for this remarkable transformation in India-U.S. ties.