Is Sri Lanka's Foreign Minister On Autopilot?
The country's foreign minister keeps talking big, but speeches are not policy.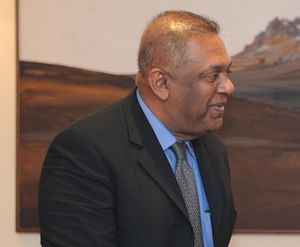 Sri Lanka's Foreign Minister Mangala Samaraweera recently spoke at the Norwegian Institute of International Affairs in Oslo. Samaraweera has again presented a very optimistic assessment of the current state of affairs in the war-torn island nation.
The foreign minister is right to note that recent political developments have presented the country with an unforeseen opportunity. And he, importantly, highlights the passage of the 19th amendment to the constitution, which trimmed presidential powers and reintroduced term limits for the presidency.
Here's more from Mr. Samaraweera:
In fact again as some of you may know, we have achieved a considerable amount, many victories, in a short period of time in the area of democratization. Within the first one 100 days itself, President [Maithripala] Sirisena pruned down many of his executive powers as much as he could without going through a referendum as the Supreme Court requested. He reintroduced term limits for the Presidency. He again took away all institutions like the Judiciary and the Public Service Commissions, the Corruption Commissions all out of the grip of Presidential rule and independent commissions are now functioning again and also committed himself for a new Constitution, not merely Constitutional Amendments, a new Constitution.
With the 32nd session of the U.N. Human Rights Council (HRC) currently underway, let's consider Colombo's transitional justice agenda in more detail.
Samaraweera weighs in:
So with that [transitional justice mechanisms] in mind, we have been working hard in the last several months, especially since the [HRC] resolution was passed unanimously on the first of October last year. We have now in fact, the first of these mechanisms which we proposed, the Permanent Office for Missing Persons has now being finalized and also got unanimous approval by the Cabinet and the next step of publishing it as a government gazette was also completed two weeks ago in all three languages and the final step would be to present it in Parliament within the next month or so once the due time frames are completed. So the OMP or the Office for Missing Persons, I feel is a massive step forward.
Samaraweera fails to mention that there have been numerous concerns regarding the nature in which the OMP is being created. Many wonder if the cabinet's hasty decision to approve the OMP was designed largely to deflect international worries about the government's lack of progress.
What about the judicial mechanism to hold individuals accountable for alleged wartime abuses? Is international involvement (to ensure that the process is credible) still under consideration?
Samaraweera explains:
Of course there's a certain degree of controversy on how it [the judicial mechanism] should be setup and the level of international participation. That too will be decided after the consultations are over but all I can say now is whatever we decide upon, will and must have approval, not only ourselves but of the victims those who suffered. This is not an exercise to please ourselves. So the final contours of the architecture of the courts we are hoping to set up will be in discussion. Especially with parties like the [Tamil National Alliance] TNA or other groups which represent the victims.
Time for some unbridled optimism:
And we have. In fact, again I don't want it to be like the monkey praising his own tail, to go on about the achievements we have made but, in the short period of time, we have made some remarkable achievements and we are continuing to do so. I saw some of our friends in the international arena call what we have done in this time as 'baby steps' but to them I'd like to say that even though it may look like baby steps to some of you in the international community, I think if I may paraphrase Armstrong going to the moon, It's a giant leap for Sri Lanka and we will move forward.
There are other routine references to trade, investment and development. Colombo has "been getting a lot of support from the West since the new government came into power," Samaraweera says. That's undeniably true.
What Samarweera doesn't mention is that Colombo is still in the early stages of complying with the HRC resolution. What Samaraweera doesn't mention is that the government has been prevaricating vis-à-vis international participation in this process. What Samaraweera doesn't mention is that — given how little has been accomplished and how much remains to be done — some people have begun to question Colombo's sincerity about further reform.
Moreover, contrary to what Samaraweera claims, demilitarization in the Tamil-majority north and east has yet to begin. And credible reports reveal that torture and sexual violence continue to plague these areas. 18 months since Mahinda Rajapaksa lost the presidency, daily life in these locations has not noticeably improved.
Samaraweera continues to deliver upbeat speeches that are infused with hopeful, self-congratulatory language. But speeches aren't policy. In the days ahead, hopefully HRC member states and the broader international community keep that in mind.
This piece first appeared in The Huffington Post.