Sri Lanka Will Create an Office of Missing Persons
Ostensibly, Colombo takes a step forward, yet plenty remains to be done.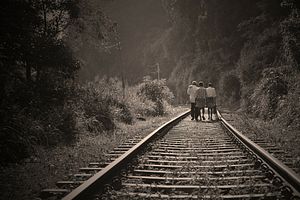 Sri Lanka's parliament has recently passed legislation that allows for an Office of Missing Persons to be created. This is one of the four key pillars of Colombo's transitional justice agenda. The office will hopefully ascertain whether those who went missing are still alive and provide other pertinent information surrounding those disappearances.
The international community, especially the US, has been quick to praise this recent piece of news. Global Tamil Forum, a London-based diaspora group, is also quite upbeat about this development.
Here's part of the organization's press statement:
The Global Tamil Forum (GTF) welcomes the passing of the Office of the Missing Persons Bill (OMP) in the Parliament on August 11 as this is an important first step towards achieving accountability, justice and reconciliation in Sri Lanka. We commend the leadership shown by the [Maithripala] Sirisena- [Ranil] Wickremesinghe government in taking this initiative, which, if effectively implemented, could help thousands of families to trace and investigate about their missing loved ones and provide redress in their search for truth and justice.

GTF is also heartened by the fact that the Bill received the support of the broad ruling coalition of the [United National Party] UNP and the [Sri Lanka Freedom Party] SLFP, and the key opposition parties of the [Tamil National Alliance] TNA and the [Janatha Vimukthi Peramuna] JVP. We hope that such unified approach will continue in the future as steps are taken to address long-standing Tamil concerns relating to war time accountability, political resolution and reconciliation.
In a smart piece, Colombo-based journalist Kusal Perera notes that there were serious problems with the way in which the OMP was created. Many others, including Human Rights Watch, had previously raised concerns about the lack of proper public consultations related to the OMP's establishment. These are valid worries and important things to keep in mind as Colombo goes forward with its transitional justice agenda.
The establishment of the OMP is potentially quite important. Yet – like so much else – its lasting significance is going to come down to implementation. Sirisena has already made it clear that the OMP's creation isn't an attempt to go after the Sri Lanka Army. That's a very unfortunate statement. The president's recent remarks guarantee that "the army will not be targeted in anyway," says Perera. "Take the security forces out and what will the affected families be left with to complain?"