Only One China for Kyrgyzstan: Bishkek Rejects Taiwanese NGO
The Taiwan Root Medical Peace Corps, a medical provider slated to offer "free medical services" in Kyrgyzstan, was denied.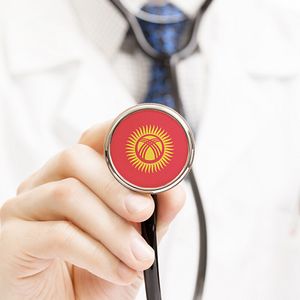 Last month, when Chinese Foreign Minister Wang Yi visited Bishkek, much of the focus remained on boosting economic relations and trumpeting China's Silk Road Economic Belt initiative. Largely overlooked, however, was a comment from Kyrgyz President Almazbek Atambayev. According to Xinhua, Atambayev noted that Kyrgyzstan would "firmly stick to the one-China policy," effectively recognizing Chinese sovereignty over Taiwan.
At the time, the reaffirmation went unnoticed. A few weeks later, though, Atambayev's stance has reportedly forced a Taiwanese NGO to look elsewhere for work – and seemingly barred any Taiwanese business from operating in Kyrgyzstan. A report in the Taipei Times detailed that Bishkek turned away the Taiwan Root Medical Peace Corps, a medical provider that had been slated to offer "free medical services" in Kyrgyzstan. On June 1, the Kyrgyz Ministry of Foreign affairs issued a letter denying the group's application for entry.
The ministry's reason for refusal was clear. As the letter, sent from the Ministry of Foreign Affairs in the South of Kyrgyzstan to the Office of the Government of Osh Oblast, delineated:
Kyrgyzstan upholds the unchanging position in regards of the "Taiwan issue", which has been synchronizing on a permanent basis at bilateral meetings of different levels: "Taiwan is an integral part of China territory and the Government of People's Republic of China is the one lawful government who authorized to represent all China country" [sic].
The letter, however, goes further than barring just the one Taiwanese NGO. The signatories note that they "do not recommend to admit official contacts with a state organizations [sic], non-governmental organizations, business communities and private individuals from Taiwan imperatively." That is to say, the letter would appear to stipulate that Kyrgyz officials cease engagements with any Taiwanese businesses or individuals – effectively cutting off relations with Taipei. (To be sure, Kyrgyzstan is not alone in the region in adhering to the "one-China" policy – Tajikistan, Turkmenistan, Uzbekistan, Kazakhstan, and Russia all back the same position.)
As 24.kg reported, the head of the Taiwan Root Medical Peace Corps – which had already sent representatives to Kyrgyzstan to sketch out a plan of action – said this was the first time in the group's 21-year history that it had been rejected on account of a host country's relations with Beijing. The News Lens added that Bishkek's move mirrors recent Nepali and Greek treatment of Taiwanese operations, apparently caving to Beijing's pressure.
Kyrgyzstan, as readers of Crossroads Asia well know, maintains increasingly close ties with China, both within multilateral and economic spheres. Bishkek also maintains a questionable record of territorial recognition, remaining one of the few countries to recognize both Russian claims in Crimea and Chinese claims in the South China Sea. And Kyrgyzstan's domestic discourse on NGOs – which numerous actors, including Moscow, would prefer to see tabbed as "foreign agents" – continues to be fraught.
Still, Bishkek's move to bar a Taiwanese NGO outright, and to recommend cutting all dealings with Taiwan, represents a significant lurch toward both Beijing's extraterritorial position and Beijing's regional claims. Bishkek will likely remain in Beijing's good graces with the prohibition. But it's the citizens living in rural swaths of southern Kyrgyzstan – those who would have benefited most from Taiwan Root Medical Peace Corps's work – who will suffer for the decision.