Singapore, India Hold First Defense Ministers' Dialogue
The two countries move towards operationalizing their new defense pact.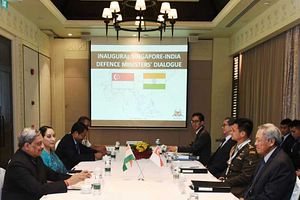 India and Singapore held their first ever defense ministers' dialogue Friday ahead of Asia's premier security forum in the city-state.
Last November, the two countries had agreed to an annual Singapore-India Defense Ministers' Dialogue (DMD) as part of a revised Defense Cooperation Agreement (DCA) inked as they commemorated the 50th anniversary of their defense relationship during the visit of Prime Minister Narendra Modi last November. It was one feature of the DCA – an upgraded version of the one inked in 2003 – which also included deeper cooperation on maritime security and further collaboration between their defense industries.
On Friday, Indian Defense Minister Manohar Parrikar met his Singaporean counterpart Ng Eng Hen for the annual DMD before the 15th iteration of the Shangri-La Dialogue from 3 to 5 June.
During their meeting, both Ministers reaffirmed their defense relationship and pledged to move forward on enhancing the bilateral defense partnership under the revised DCA. According to a joint statement released by Singapore's defense ministry, they also acknowledged "good progress" made in operationalizing the revised DCA, such as the convening of the first Defense Industry Working Group in May 2016.
The two countries – which had upgraded their relationship to the level of a strategic partnership last year – agreed to set up working level mechanisms to foster cooperation in fields such as aerospace and electronics, and noted additional opportunities for industrial collaboration, including through joint ventures, that have opened up due to India's Make in India initiative.
Singapore and India also agreed that they would work towards the renewal of training arrangements that allow the Singaporean Air Force and Army to train in India when they expire in 2017 and 2018 respectively.
Parrikar, who is on his first visit to Singapore, also called on Prime Minister Lee Hsien Loong and Deputy Prime Minister Teo Chee Hean.
In remarks to the media following the DMD, Parrikar said the interaction highlighted Singapore's role as a key partner within India's "Act East" foreign policy.
"We consider Singapore as a major fulcrum…for this policy…a key component, and a key friend of India to ensure the peace and tranquility in this region," he said.