India, Singapore Kick off SIMBEX Military Exercise
The naval drill, now in its 30th edition, has grown more complex and robust as India and Singapore's shared concerns about China deepen.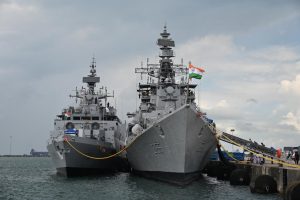 On September 21, the navies of India and Singapore began their annual maritime military exercise, which will involve drills in the southern South China Sea. According to an Indian Ministry of Defense statement, the Singapore-India Maritime Bilateral Exercise (SIMBEX) has been undertaken since 1994 and is "the longest continuous naval exercise that Indian Navy has with any other country."
This year's exercise from September 21-28 is the 30th edition of SIMBEX. It is a demonstration of a strong political and strategic commitment by both India and Singapore to strengthen their military and security ties.
A statement from Singapore's Ministry of Defense said that SIMBEX involves a harbor phase (September 21 to 24) at RSS Singapura at Changi Naval Base and a sea phase (September 25-28) in the southern reaches of the South China Sea in international waters.
Detailing the two phases, the Indian statement said that the harbor/shore phase will involve a series of professional interactions, cross-deck visits, Subject Matter Expert Exchanges (SMEE), and sports fixtures, all done with the goal of ensuring better interoperability and mutual understanding between the two navies.
The sea phase will include "complex and advanced air defense exercises, gunnery firings, tactical maneuvers, anti-submarine exercises and other maritime operations." Each of these maneuvers are aimed at enhancing the navies' warfighting skills while firming up their capabilities to take on "multi-discipline operations jointly in the maritime domain." The Singapore statement said that the two navies will also sign a submarine rescue joint standard operating procedures (JSOP) document.
In this year's edition of SIMBEX, there will be two Formidable-class frigates, RSS Stalwart and RSS Tenacious, both carrying S-70B naval helicopters, and a Victory-class missile corvette, RSS Valour, from the Royal Singapore Navy, as well as a Fokker-50 maritime patrol aircraft and four F-15SG fighter aircraft from the Royal Singapore Air Force. The Indian side will be represented by a Rajput-class destroyer, INS Ranvijay; a Kamorta-class corvette, INS Kavaratti; and a P-8I maritime patrol aircraft from the Indian Navy. The Singapore statement said that this edition also includes the two navies deploying a submarine each for the maritime exercise.
At the beginning of SIMBEX23, Singapore Navy Fleet Commander Colonel Kwan Hon Chuong commented on the importance of the bilateral maritime exercise. Kwan said SIMBEX "has evolved from its modest inception into a robust platform that not only strengthens our operational capabilities but also nurtures the bonds of friendship connecting our sailors."
For both India and Singapore, expanding and deepening their military engagements and security consultations is part of their military and diplomatic maneuvering in the face of a belligerent China.
In March this year, the Indian Army and the Singapore Army conducted the 13th edition of Exercise Bold Kurukshetra, a bilateral armor exercise. These exercises have gained greater sophistication over the years. According to an Indian Ministry of Defense statement, both armies, for the first time, took part in a command post exercise that included battalion- and brigade-level planning elements and computer wargaming.
With personnel from the 42nd Battalion, Singapore Armored Regiment, and an Armored Brigade of Indian Army, the 10-day exercise was beneficial in developing a "common understanding of mechanized warfare in emerging threats and evolving technologies, developing interoperability through a computer simulation-based Wargame using joint operational and tactical procedures controlled through a joint command post."
Such drills have been seen as enormously useful in having a better understanding of "each other's operating drills and procedure" as well as the good practices that are shared in these exercises. Exercises between the two armies have been undertaken since 2005.
In addition, India engages Singapore as well as other Southeast Asian countries in strategic dialogues in order to enhance their understanding of the rapidly changing threat environment, impact of new disruptive technologies, and ways to mitigate the negative impacts on them. China has of course loomed large in these conversations.
A common and shared threat perception of China and the need to instill a regional framework that is respectful of each other's sovereignty and territorial integrity has pushed India to build closer defense partnerships with many ASEAN countries including Vietnam, the Philippines, Singapore, and Indonesia. The relationships include military-to-military exercises, military exchanges, training programs, and political dialogues intended to arrive at shared understanding.
With the goal of establishing a strengthened military partnership between India and ASEAN as a whole, the first ASEAN-India Maritime Exercise (AIME) was done in May this year. Naval ships from India, the Philippines, Indonesia, Singapore, Malaysia, Thailand, Brunei, and Vietnam participated in the AIME naval drills in the South China Sea.
Even though India had held military exercises with a number of ASEAN countries individually, AIME was seen as a step up because, for one, both sides decided to shun some of the hesitancies that had prevented ASEAN as a bloc from exercising with India. Both sides were concerned about possible negative reactions from China, but China's aggressive actions against ASEAN countries and India have gone on unabated despite the two sides remaining sensitive to China's concerns. Also, the two sides have had to bear the brunt of China's aggressive actions even as the region was reeling from the health catastrophe induced by the COVID-19 pandemic.
India is also planning to emerge as a defense supplier to the ASEAN countries. The BrahMos cruise missile sale to the Philippines in 2022 is opening up possibilities for similar arms sales in the region. Vietnam and Indonesia appear to be vying for such deals with India.
Given that the China threat continues to be an area of concern for India and Southeast Asia, including Singapore, exercises like SIMBEX will become more advanced in terms of complexity of maneuvers. All the navies share a common requirement to work together in a seamless manner in the maritime domain.