Chevron and Kazakhstan Hail $36.8 Billion Tengiz Expansion
The investment looks to capitalize on lower costs and bet on future demand.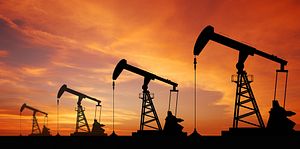 Chevron announced Tuesday plans to increase production at the Tengiz oilfield in Kazakhstan to 1 million barrels a day of oil equivalent with a $36.8 billion expansion project. The Tengiz field sits along the northern Caspian Sea and is one of the world's largest and certainly one of Kazakhstan's most profitable endeavors.
Tengizchevroil (TCO), the consortium managing the field, is a joint venture between Chevron (50 percent), ExxonMobil (25 percent), KazMunayGas (20 percent  share), and Lukoil (5 percent share). The consortium came together in 1993, with Chevron the first U.S. company to dive headfirst into post-Soviet energy investments.
In 2012, TCO began exploring expansion under a new project, the Future Growth Project (FGP). Chevron noted in its press release announcing the decision to go ahead with the expansion plans that the project will increase crude oil production at Tengiz by 260,000 barrels per day. The $36.8 billion expansion costs includes $6.2 billion for contingency and escalation.
Kazakh and TCO  leaders hailed the investment decision. "This decision made by major international companies re-affirms that the Republic of Kazakhstan is a country with favorable business-climate where long-term investments can be made with confidence," Kanat Bozumbayev, minister of energy for the Republic of Kazakhstan said in a TCO press release.
TCO Deputy General Director Anuarbek Jakiyev highlighted job creation and product and service purchases associated with construction as having a "multiplier effect" throughout the economy.
Despite the 2014 crash of global oil prices, and persistence of the slump through 2015, some analysts see reason for hope that although reclaiming pre-2015 prices is unlikely, the market is stabilizing.
In January, Brent crude hit a low of $27.10 a barrel but has since risen to around $50. CEO of Vitol Group Ian Taylor told Bloomberg Television that the 2016 year-end benchmark will be "not too far away from where we are today" and that 2017 may see a rise to $60. He offered a less than optimistic assessment, pointing to slackening demand growth in Asia. In addition, production drops in some areas in 2017 will likely be compensated by increases elsewhere. In Kazakhstan the massive Kashagan field is expected to go online by the end of the year (though we've been fooled before by mythic Kashagan).
Still, the depressed market has created a prime investment opportunity. Chevron's Jay Johnson, executive vice president, Upstream, said, "This project builds on the successes of prior expansions at Tengiz and is ready to move forward… It has undergone extensive engineering and construction planning reviews and is well-timed to take advantage of lower costs of oil industry goods and services."
The Wall Street Journal highlighted the relationship between falling oil prices and cheaper input costs:
For oil companies that do invest now, they get to benefit from a huge drop in drilling costs that has accompanied the oil-price fall. Pumps, valves, drilling rigs, construction and engineering services and even labor are cheaper because the contractors that provided those services have less work that in the boom years after the financial crisis when oil prices traded around $100 a barrel.
The expansion at Tengiz won't begin to impact production until at least 2022 and as the WSJ points out, Tengiz "has had average production costs of around $6.50 a barrel over the past five years," according to estimates by Jason Gammel, a senior oil analyst for Jefferies.