Will Kashagan Be Pumping by the Fall?
A better question might be whether it'll be worth it.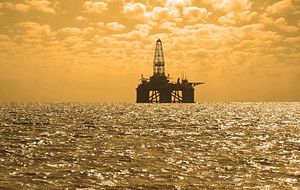 Kazakhstan says the massive Kashagan oil field will begin production again this fall. Included in a March 30 press release from the Caspian Pipeline Consortium (CPC) was a note indicating that the Kazakhs still plan on restarting production this fall. But with record low oil prices and a chilly chance of a production reduction by the world's top oil producers, let alone a freeze, getting the field back to producing might be a moot point.
Kashagan, located in the northern Caspian sea, was discovered in 2000 and has been said to be, along with the neighboring Tengiz field, the largest oil find in 30 years. The project to exploit Kashagan has been marred by delays, challenges–both environmental and engineering–and accidents. It's earned the unfortunate designation as the most expensive energy project in the world, with an estimated tab of more than $50 billion. In 2013, mere weeks after starting production, a leak forced it to cease.
The CPC, which is not involved in the development of the field itself (that's managed by the North Caspian Operating Company), is a consortium and pipeline company that handles the transport of oil from the Tengiz field through Russia to the port at Novorossiysk on the Black Sea. The March 30 press release concerned the construction of two pump stations that are part of an expansion project destined to link oil from Kashagan into the consortium's pipelines.
NCOC is a joint project between KazMunayGas, Eni, ExxonMobil, Royal Dutch Shell, Total S.A. (16.81 percent each), China National Petroleum Corporation (8.4 percent) and Inpex, (7.56 percent).
Per the CPC's press release, the plan is to have oil in the two pumps (APS-4 and APS-3A) by October 2016. The release also adds this note: "According to the leadership of the oil & gas industry of Kazakhstan, oil production is planned to be started in the Kashagan field in the fall of 2016, and APS-4 will play an important role in receiving crude oil from that field."
Jacopo Dettoni's article last summer for bne Intellinews–in which he asks and explores whether Kashagan makes economic sense–remains as relevant as ever:
Total investments for the initial stage of production have already reached $44.5bn, up from an original estimate of $10bn. Analysts widely agree that the field will need an oil price above $100 per barrel to cover the development costs and generate reasonable profits under the terms of its production sharing agreement (PSA).
With the price of oil still floating between $35 and $40 per barrel, Kazakhstan is in a strange spot. There are obvious political reasons to get the pipeline up and running. It's 2013 opening was much-heralded but rapidly turned into a massive disappointment. But the economic arithmetic still doesn't work out. A few weeks ago, I pointed out that while oil is big business in Kazakhstan, Astana doesn't have much global pull in worldwide oil politics. So while Kazakhstan's fate is inextricably tied to that of the oil market writ large, it doesn't have the position to push Saudi Arabia or Russia or any of the other top oil producers into freezing, let alone reducing, their record-high production rates.
The world's top oil producers–the countries of OPEC and Russia–have been discussing a production freeze over the past few months. There's not much optimism that the April 17 meeting will result in a significant deal. As Reuters reported, a senior executive from the International Energy Agency (IEA) said in late March that a freeze would be essentially "meaningless." In February, multiple news outlets reported that Russia and Saudi Arabia had reached an agreement that Iran then rejected. Then, in March, Russian oil production reached a 30-year high.
It's unclear where the oil market will go from here. Nawal Al-Fuzaia, Kuwait's OPEC governor is optimistic, she said she expected "Brent crude to average between $45 and $60 a barrel in the second half of this year. SEB's chief commodities analyst, Bjarne Schieldrop, on the other hand said futures could drop to $35. Keep this in mind, however: in January 2015 experts at SEB forecasted that "the price of Brent crude oil will gradually rise and reach 70 dollars per barrel in the fourth quarter of 2015."
Plenty can happen in a year and predicting oil markets is tricky business. For pumping Kashagan to be worth it, however, Kazakhstan needs nothing short of an miracle.