Pass the Herbs: A Vietnamese Street Food Primer
From Ho Chi Minh City to Hanoi, eating on the street in Vietnam is a treat.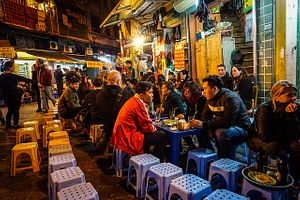 What makes street food something truly special? Can sitting on stools around a crowded plastic table – over steamy bowls of soup or a stir-fried medley of meat and vegetables – be as memorable as dining at a Michelin star restaurant?
Among travelers who have dined at their fair share of sidewalk stalls around the world, Southeast Asia is tough to beat. From Jakarta to Bangkok, a mouth-watering meal can be had for a few dollars – or even less in some cases.
While Bangkok's street food scene gets a healthy share of press, there are other gems in the region. Chief among them: Vietnam. Light, fresh, chock-full of herbs – street food in Vietnam can awaken the most jaded taste buds.
What follows is an introduction to what's on offer in the country, from the traditional tastes of the north to the more adventurous palate of the south.
Herbal Essence
North or south, if there's one thing that defines Vietnam's street eats from those of its neighbors, "It's all in the herbs," Graham Holliday, author of Eating Viet Nam, told The Diplomat. "There are a huge variety of herbs found throughout the country and some very localized ones that you cannot find outside a particular town or region. Herbs are part of almost every meal."
Holliday explained that herbaceous dishes are slightly less common in the north than the south, where dishes like Banh Trang Phoi Suong in Bat Trang province are packed with up to eight to ten herbs.
The heavy use of herbs gives Vietnamese food its "punchy clean flavors," Mark Lowerson of Hanoi Street Food Tours, said. "It's generally very seasonal and very local. Vietnamese food is less oily, heavy and rich than other cuisines in the region."
As is common across the region, there is great care for balance. Salty, sweet, sour and spicy are the main elements, according to Lowerson. "But in Vietnam, the spice component of street food dishes is pretty much managed by the individual customer," he said. "In other words, the food's not spicy until you put the chillies or hot sauce on yourself."
Regionality
Those who haven't been to Vietnam could be forgiven for thinking it is not all that big. They would be mistaken. While it is narrow from east to west – only 50 kilometers wide at the narrowest point – it stretches 1,650 kilometers from north to south.
As it relates to food, this means variety. In simple terms, tastes in the north – with Hanoi at the heart –  lean toward tradition, while the southern Vietnamese take a more experimental approach.
"Sometimes I'm surprised by how quickly our street food follows trends," food writer Nguyenhuu Nguien said of his native city, Ho Chi Minh City, or Saigon as locals still call it. "One day you may see Japanese style street food such as takoyaki." Citing another example, he added that "bánh mỳ nướng muối ớt (bread grilled with salt and chilli) is very popular these days in Saigon."
He added: "Our street food renews itself by introducing new tastes and new eating experiences. Our street food reflects life and the demands of our youth who doesn't stick tradition. They renew it and make it richer."
Holliday also considers southerners to be "a little more adventurous and, arguably, sophisticated in their tastes. There's also a lot more variety of dishes in Saigon than there is in Hanoi."
He added: "The center is quite different again, especially in Hue which has a quite different take on Vietnamese food and is probably the most sophisticated and difficult to prepare of the lot."
The palate becomes increasingly conservative as it moves north, where sugar, spice, salt and herbs are used more sparingly. "Hanoians would say their food is the 'real' Vietnamese food and that Hanoi is the home of Vietnamese food, especially Pho," Holliday said.
True to form, "Saigon's pho will be served with a ton of herbs and condiments on the side," Lowerson said. "In Hanoi, that's considered vulgar."
In large part, the shaping forces behind the collective palates of Vietnam's regions can be attributed to climate and the lay of the land. Available ingredients play a large part in shaping these local attitudes about the proper amount of zing to infuse in each dish.
One example of this playing out would be the use of a fresh water fish in the inland hub of Hanoi for fish noodle soup (bun ca), Lowerson said. Meanwhile, a saltwater fish would be the natural choice in the beach resort city of Nha Trang on the south central coast. And of course, locally sourced herbs and vegetables differ by region too.
French Connection?
Immediate geography aside, French cooking exerts influence on Vietnamese food from afar. Opinions are divided over just how much French gastronomy has seeped into Vietnam's culinary traditions, but reminders of the nation's colonial days are readily found: baguettes, coffee and pastries to name a few.
"I think the biggest influence is in the way we cook," Nguien said. "We know how to balance ingredients. Flavors in Vietnamese food are not strong as Thai food, which contains a lot of lemongrass and coconut milk."
Along with bread, pastries and coffee, Lowerson added a few other items to the list, such as the "use of sweetened condensed milk in coffee, a good version of a creme caramel… The use of certain vegetables in the home, such as carrots, cauliflower and broccoli, green beans – they were not eaten in Vietnam until the French colonized the country."
Another prime example of French influence is the banh mi, a sandwich packed with grilled meat, pickled vegetables, coriander and pâté, "a true amalgam of the Vietnamese penchant for fresh herbs and crisp, raw vegetables and the French influences of pâté and meat."
But for the most part, French culinary influence ends here. It's worth noting that this extends to the most iconic dish on Vietnam's national menu: Pho.
"There is ongoing discourse about the French input in regard to pho, using beef in a soup – but I don't think there is any conclusive evidence," Lowerson said. "One has got to remember that pho is a noodle soup, after all."
A classic bowl of pho is a delectable mix of hearty broth, beef, and light rice noodles. The meal in a bowl — often eaten for breakfast — is so fundamental to Vietnam's culinary culture that it became a symbol of national pride, which poet Tu Mo satirically praised to in "An Ode to Pho." In short, pho was not a brainchild of the French.
"I think the whole French influence thing is overplayed," Holliday said. "I think the Vietnamese were plenty creative before colonialism and have continued to be so ever since and I don't really buy into the idea that pho is basically a French influenced thing."
Hitting the Streets 
While pho and banh mi are a few dishes many are familiar with, the reality is that Vietnamese street food is incredibly diverse and complex.
A few examples: cha ca and banh cuon. The former is a fish dish with a shot of turmeric made only in Hanoi. The latter is a steamed breakfast roll stuffed with eggs and minced pork. Or how about Saigon's famous "broken rice," covered with a healthy portion of grilled pork ribs and sausage?
Really, you can't go wrong if you just follow the locals.
"If a lot of people are eating at a stall, it's probably good," Holliday said. "If they serve one thing, it's probably a good version of that thing. Leave any inhibitions at home, because you'll be missing out on the best food in Vietnam if you do not eat on the street. Bun Mam, Banh Xeo and Hu Tiu are all great in the south. Bun cha is the go to dish in the north."
Lowerson seconded this advice and added that showing a little gumption goes a long way. Acknowledging that entering the street food melee can be daunting at first, he advised: "The kitchen is always a transparent place where you can see the ingredients, the assembly of the dish and you can see how other people are eating."
"If you like the look of it, employ a bit of bravado, show some interest, use your fingers to point and order – if you do that, the Vietnamese are very inclusive."