Russia Delivers First Missiles for Iran's New Air Defense System
The first batch of missiles for the S-300 air defense system has recently been delivered, Iran claims.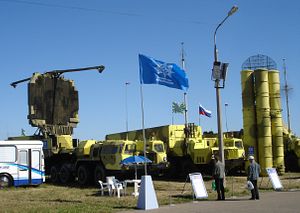 Iran has purportedly received the first batch of missiles for its new S-300PMU-2 Favourite long-range surface-to-air missile (SAM) batteries, the Iranian news agency Tasnim reports.
"The first batch of missiles of the S-300PMU2 has arrived in Iran. These systems will reinforce the air defense of the Islamic Republic of Iran," according to the news report.
Up until now, it was unclear what variant of the S-300 air defense system would be sold to Iran given that Russia stopped production of the S-300PMU-1/SA-20 Gargoyle SAM system, the variant Tehran was initially interested in, last year.
"With Iran taking delivery of missiles of the Russian-made S-300 air defense system, it became obvious that a revised contract between Tehran and Moscow was specifically on the purchase of [the] S-300-PMU2 model," Tasnim claims.
In comparison to the S-300-PMU1 system, the upgraded PMU2 variant can engage both short-range ballistic missiles as well as medium-range tactical ballistic missiles.  With the new 48N6E2 missile, the effective range of the SAM complex extends to about 195 kilometers (121 miles).
"The new missile retains the 48N6E capabilities against aircraft, cruise missiles and UAVs but features improved capabilities against Theater Ballistic Missiles (TBMs) and even interception capability against Intercontinental Ballistic Missiles (ICBMs). 48N6E2 would be able to engage incoming ballistic missiles at Mach 9," according to  the website deagle.com. Some analysts believe that the 48N6EE2 missile is compatible with older S-300 SAM systems.
However, it remains unclear what type of missiles Russia has supplied to Iran for the launchers. As I noted elsewhere, theS-300 air defense system can be used against enemy aircraft, cruise missiles and theater ballistic missiles. Furthermore, I explained:
One S-300 battery usually consists of an engagement radar, a low-altitude radar, and up to eight transporter erector launchers (TEL) with four launch tubes each. Each tube carries one surface-to-air missile. A battalion can comprise four to six batteries in addition to a command/fire and control post, as well as an extra target acquisition radar unit.
Russia's TASS news agency reported in May that one S-300 battalion has been supplied to Iran already without offering specific details about the exact size of the unit. "During Iran's annual National Day Parade in April, the Iranian military displayed a S-300 target acquisition radar unit, a radar station and a mobile radio antenna. However, no TELs and missiles were displayed," I explained back then.
As I reported previously:
The S-300 SAMs currently being delivered are an upgraded version of the weapons systems initially ordered by Iran in 2010.  In July 2015, Russian Presidential Aide Vladimir Kozhin announced that Russia would update the S-300 SAMs to meet specific Iranian needs without, however, offering technical details.

Russia was forced to cancel the delivery of the weapons in June 2010 due to a United Nations Security Council resolution imposing sanctions — which included a ban on the sale of hi-tech weapons. After the cancellation of the arms deal, Iran demanded $4 billion in compensation from the Russian state.
The complete order of S-300 SAM systems is slated to be completed by the end of the year.