The Death of a Liberal Chinese Magazine
A hostile takeover by a state institution forces the closure of the reform-minded Yanhuang Chunqiu.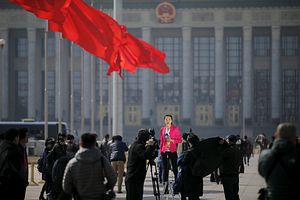 Du Daozheng's dream is over.
The 93-year-old publisher of China's most influential liberal political journal, Yanhuang Chunqiu, never expected he would have to close the publication that he founded 25 years ago.
But with a statement released on Monday, he did just that.
"After discussions at the Yanhuang Chunqiu committee, it was unanimously decided that the journal will cease publication from this day. From now on, anyone who publishes in the name of Yanhuang Chunqiu are unrelated to this journal," said the statement signed by Du.
Last week, still recovering in hospital from high blood pressure that he was suffering from after his wife's death, Du was shocked to hear that he was abruptly dismissed from the journal and a new editorial team has been appointed by the authorities without his knowledge.
To add to his distress, the office of the journal has since been occupied around the clock by people from the Chinese National Academy of Arts, the government organ that oversees its work. Armed with camping mattresses and blankets, the occupiers' presence has made it impossible for the magazine to operate, say senior editors at the journal. Even the password of the Yanhuang Chunqiu website has been stolen and changed, they said.
The website now carries a statement saying Du was dismissed due to "his elderly age" and the reshuffle was based on guidelines from the Communist Party's Organization Department and other state regulations on press and publications.
"This is shameless… it's just like the Cultural Revolution,"  said Du from his hospital room in Beijing in a phone interview before the closure announcement.
"It came so suddenly… I never thought this could happen," he sighed.
Du's statement said the academy breached an agreement it made with the journal in late 2014, which promised to respect its editorial independence and autonomy over financial and personnel issues, and violated its publishing rights.
Yanhuang Chunqiu staff were notified last Wednesday by the academy that it had appointed a new publisher to replace Du. It also appointed a new chief editor (who has never worked at the journal), three deputy publishers, and six deputy chief editors. Only five out of the 11 named on the list were from the original editorial team.
The new publisher, Jia Leilei, is a vice president at the academy and a member of the Film Censorship Committee of the State Administration of Press, Publication, Radio, Film and Television. He has already sat in editorial meetings at Yanhuang Chunqiu since the academy became its supervisor two years ago.  The new chief editor, Hao Qingjun, is an editor at a literature journal under the academy.
Analysts say the heavy-handed tactics against Yanhuang Chunqiu indicate that the authorities are no longer tolerant of reformist and liberal views within the party.
Yanhuang Chunqiu made a name for being a rare platform for liberal voices among intellectuals and pro-reform retired party elders, many of whom joined the party in the 1930s and 1940s as teenagers, attracted by the party's then democratic aspirations.
The magazine boldly carried unflattering articles and eyewitness accounts that contest official versions of party history and repeatedly advocated for constitutional democracy, thanks to the support of many senior veteran liberal party elders. Du himself was a former head of the General Administration of Press and Publication, the government censor, during the relatively liberal 1980s.
Despite many crises during Yanhuang Chunqiu's 25 years of history, Du had always been hopeful that the country's top leaders would heed the party veterans' calls for political reforms, which were stalled after the 1989 crackdown on the Tiananmen pro-democracy movement.
Even though the censors have always watched his magazine closely and it has come under increasing pressure to soften its editorial line, Du always thought his pro-reformist journal would manage to survive, having reached an agreement with the authorities to steer clear of a number of sensitive issues, including the Tiananmen crackdown, multi-party democracy, separation of powers, Tibet, Xinjiang, and religious issues.
Du was once hopeful, before President Xi Jinping assumed power, that Xi would follow in the footsteps of his reformist father and party veteran Xi Zhongxun, who had endorsed the magazine in a calligraphy that is hung on Yanhuang Chunqiu's office wall.
But this time, he has finally lost all his hopes.
"There is nothing more I can do now," he said despondently.
"When we cannot safeguard our mission, which is to uphold the spirit of reform, we would have no choice but to close," Du said, referring to the reform initiatives launched at the Third Plenum of the party's 11th Central Committee in 1978.
Yanhuang Chunqiu, founded two years after the Tiananmen crackdown, has consistently called on the authorities to carry out political reform and to respect "universal values" such as rule of law, civil liberties, and basic rights.
The order to forcibly change the management of Yanhuang Chunqiu took place amid the most severe crackdown on civil liberties and speech freedom in China since the 1989 Tiananmen crackdown.
Since Xi assumed power in 2012, official ideology has taken a conservative turn and his government launched a sweeping crackdown on dissent. Hundreds of activists, rights lawyers, journalists, and social commentators have been detained or arrested on subversion or public security charges.
Party edicts over the past few years denounced "Western" and subversive values such as democracy, human rights, a free press, and civil society. Editors at state publications say even the term "constitutional democracy" is deemed sensitive enough to be censored.
One of the seven taboo issues listed in an internal party document called Document No 9 was "historical nihilism" — which effectively bans any versions of history other than the official one. A senior official at the Central Party School this month railed against "historical nihilism," quoting Xi as having said that "hostile forces" like to use historical issues to "attack, smear and slander" the country.
Public discussion and publication on the dark side of party history such as the Cultural Revolution (1966-1976), the anti-rightist movement in 1957 that sent intellectuals to hard labor, and the Great Famine (1958-1961)  remain mostly banned in China, but Yanhuang Chunqiu repeatedly carried articles on historical issues like these, believing that reflections on past mistakes would help steer the country back on the reformist path.
"I feel very hurt and sad.  In the past 25 years, my friends and I were just trying to do something good for the party and the country," said Du despondently. "We've tried our best and have a clear conscience… but I can't do much any more."
Du and several editors at the journal believe that the order to force new management on Yanhuang Chunqiu was a well-planned, coordinated effort by several government organs that has the endorsement of high-ranking authorities.
"Most people wouldn't have the guts to do this — this involves political risks and someone has to take responsibility (for forcing the journal to close)," said a former editor, Hong Zhenkuai.
Current and former staff at the journal say the authorities have obviously picked a time to target Yanhuang Chunqiu when it was at its weakest: Du was devastated by the death of his wife in late May and has been hospitalized ever since; Du's daughter Du Mingming, a senior editor at the journal, is in the U.S. for an operation; Hu Dehua, a deputy publisher who is the son of late liberal leader Hu Yaobang, was not in Beijing. (Hu was not named in the new editorial team.)
"They are doing this when we're having a crisis; this is immoral," Du said
The embattled journal has been hit by various crises in the past few years, each one making its operation more and more difficult. In September 2014, it was forced to switch its organizational affiliation to the academy, a move that made it more vulnerable to being censored. Two months after the switch, former chief editor Wu Si and three editors resigned. Last year, chief editor Yang Jisheng was ordered to leave the journal and it received a warning letter from the censor authorities that some of the articles it published had crossed the line.
Analysts say the death of Yanhuang Chunqiu marks a new height in the intensified crackdown on freedom of speech in China. The journal's demise has effectively snuffed out the already weak liberal and pro-reform voice in China.
Hong said the incident shows that the authorities cannot even tolerate moderate reformist opinions.
"Now there is only one voice and political noises cannot be tolerated," he said.
But Hong added that Yanhuang Chunqiu has already "fulfilled its historical role," having published many precious first-hand eye witnesses' accounts on historical issues that the authorities would rather people forget. Many of these storytellers have since passed away.
Historian Zhang Lifan said while party elders at Yanhuang Chunqiu wanted to help the country, the regime did not want heed their advice.
"They want to save the party, but the party doesn't want to be helped," he said. "When you're mighty and powerful, you don't need people to nag you."
Even though Du has announced Yanhuang Chunqiu's closure, it's still possible for the academy to carry on publishing under new management, although current editors have said they would leave.
But observers say Yanhuang Chunqiu, which has a readership of nearly 200,000, will lose its credibility and supporters without Du and his team.
"Once Du is gone, the soul of the journal will not longer be the same," said former chief editor Wu Si. "After this move, the shell of Yanhuang will still be there, but the soul would be entirely different."
Verna Yu is a journalist specializing in human rights issues in China with more than a decade's experience covering Greater China for the international (AP, AFP, Dow Jones) and local media (South China Morning Post). Yu has covered Yanhuang Chunqiu since 2005.