The Edhi Phenomenon and the Modern World
Abdul Sattar Edhi's legacy should be a lesson to Pakistan and the world.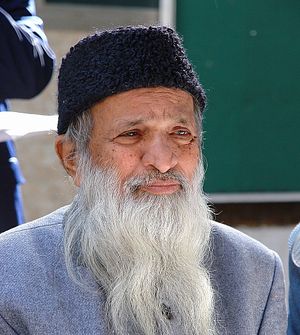 On July 8, prominent philanthropist and humanitarian Abdul Sattar Edhi passed away in Karachi, aged 88. His legacy as an ambassador for humanitarianism, as an ascetic, a philanthropist, and a social activist, particularly in modern times, will remain unparalleled.
As a man who, through selfless dedication and devotion, saved millions of lives regardless of caste, creed, religion, or ethnicity in Pakistan, his foundation and mission send a strong global message. His greatest contribution rests in not only saving thousands of lives, but doing so without prejudice, political consideration, or religious bias.
His state funeral took place at the National Stadium in Karachi on July 9, 2016. The fact that he created maternity wards, morgues, orphanages, shelters, and homes and had 1,500 ambulances ready for deployment across Pakistan make all the accolades that have poured in along with grief across the world well deserved.
Under his watch, the Edhi Foundation became one of the world's largest charity organizations, which gave the citizens of Pakistan an efficient, corruption-free, and competent institution to avail themselves of in a country where law enforcement agencies and public services had grossly underperformed due to capacity issues, politicization, and nepotism.
The foundation also provided relief to Afghanistan, Iran, and Sri Lanka. Edhi will be remembered for his harsh denunciation of terrorist groups as well as his beliefs; he considered humanity to be his only religion. This belief in itself was a simple yet powerful statement in times when regions across the world continue to grapple with religious, societal, and political intolerance.
In Pakistan, where religious extremism continues to threaten the livelihoods of millions of citizens, Edhi continued with his relentless struggle for the poor, the injured, the destitute, and the ravaged.
His work can be contrasted with the country's politicians and leaders, who have often deviated from more pressing issues such as the provision of basic amenities such as shelter, food, and access to adequate health care for the poor.
Moreover, South Asia as a region continues to be held hostage to intolerance and a lack of adequate policy-making foresight by those at the helms of power.
Yet this is also the region which saw the birth of the Edhi phenomenon, after he migrated in 1947 from Gujarat in India to Pakistan at partition and, at the age of 19, became motivated to help the cause of humanity after witnessing his mother succumb to illness.
Thus, in times when the Asia-Pacific continues to be distracted by the prospect of war, nuclear weapons, politics, and intolerance, Abdul Sattar Edhi's legacy should serve as an apolitical, impartial, and humble reminder that there is a necessity to center energies on social welfare and the provision of adequate healthcare.
As economies grow and terrorism continues to ravage populations across boundaries, Edhi's example of selfless service should be replicated.
Rest assured, however, that Pakistan, the region, and the world will be poorer without him.
Hamzah Rifaat is a research associate at the Global Think Tank Network at the National University of Sciences and Technology and was a 2016 South Asian Voices Visiting Fellow at the Stimson Center.