The Gulnara Corruption Saga: Dutch Seek 300 Million Euros in Assets
Dutch prosecutors are seeking to seize more than 300 million euros worth of assets linked to Gulnara Karimova.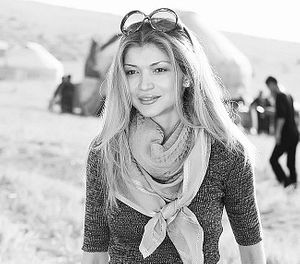 Gulnara Karimova, the daughter of Uzbek President Islam Karimov, has been off the international stage since 2014 when she was put under house arrest. The downfall of Gulnara from presumptive heir and globe-trotting "Uzbek princess" to detention was precipitated by first rumors in 2012 and then investigations into several corruption scandals concentrated in the telecoms industry. In 2013, Karimova lost her cushy UN post. Swiss prosecutors seized over $900 million in suspected Uzbek assets by March 2014. Karimova's associates were detained and then Karimova herself. In September 2014 pictures leaked alleging to show Karimova being manhandled by guards while under house arrest. Since, little has been heard or seen of Karimova, especially after the PR firm representing her announced it was no longer doing so in spring 2015.
Authorities across Europe aren't finished tugging on the strings of Karimova's web.
Prosecutors in the Netherlands this week asked judges in an Amsterdam court to seize more than 300 million euros ($333 million) worth of assets from Takilant, a front company the prosecutors alleged was used as a vehicle to channel bribes to Karimova.
While some earlier cases referred to a nameless "Government Official A" as the beneficiary of bribes paid for access to the Uzbek market, the present Dutch case names Karimova.
In a statement prosecutors were clear in their accusation: "The bribes were paid in exchange for entry into the Uzbek telecommunications market… The beneficiary of the money was the daughter of the Uzbek president."
The Dutch are also seeking a 5 million euro fine and to seize Takilant's 6 percent stake in Telia Company's Uzbek subsidiary Ucell. (Telia Company is the Nordic telecom formerly known as TeliaSonera.)
Per Reuters, "Dutch prosecutors allege that Karimova received more than $385 million in bribes between 2007 and 2015 to secure mobile 3G licences for Unitel, a subsidiary of the Norwegian-Russian owned VimpelCom and Coscom LLC, the Uzbek subsidiary of Telia."
Telia has been twisted up in Karimova's unfolding network of corruption, leading in part to the company's decision last year to sell off its Eurasia assets entirely. VimpelCom settled with prosecutors from the Netherlands and the United States in February, agreeing to pay $795 million in fines. Telia remains under investigation by Swedish, Swiss, Dutch, and American authorities.
Karimova, as noted above, has not been seen publicly since 2014. Reuters noted that neither Karimova nor a representative of Takilan were represented in the Dutch court: "She was not available for comment and is not known to have ever commented on the allegations."
There's little clamoring to find out what's become of Karimova. She lived a high life most Uzbeks couldn't even imagine, let alone pay for: serving in comfortable Europe-based diplomatic posts, pursuing a stint as a pop artist under the name GooGosha (this music video, ironically, begins with a cellphone), attending and holding fashion shows and truly earning the moniker of "princess."
A 2005 cable sent to Washington from the U.S. Embassy in Tashkent–and later published by WikiLeaks–reported on state efforts to clean up Karimova's image, op-eds in state-run media outlets seeking to tidy her image and test the waters for her as a potential successor to her aging father.
The cable concluded, "This charm offensive will not likely make her more popular; she remains the single most hated person in the country. (Comment:  We have no polling data to support that statement, but we stand by it. End comment.)"
***
For more on Karimova and Uzbek telecom corruption, this 2015 report from OCCRP is illuminating.