Foreign Ministers of India, Maldives Discuss Indian Ocean Security
Maldives' new foreign minister visited India on his first trip abroad since taking office.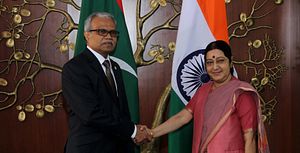 Mohamed Asim, the foreign minister of the Maldives, visited India on his first trip abroad. Asim met with Sushma Swaraj, his Indian counterpart, and Hamid Ansari, the Indian vice president. Asim and Swaraj discussed a range of issues, including peace and security in the Indian Ocean region.
According to the Indian External Affairs Ministry, Asim's visit was intended to emphasize the Maldives' traditional "India first" outlook. The small Indian Ocean state has historically enjoyed close ties with India, the major power in the region. "External Affairs Minister extended a very warm welcome to Asim, acknowledging the priority given by the visiting Minister to his meeting with her," Vikas Swarup, the spokesperson for the Indian foreign minister, noted.
"In their discussions, the External Affairs Minister and Asim took note of the high level exchanges in recent weeks between the two countries and reviewed progress on various aspects of the bilateral relationship," Swarup added. Asim and Swaraj consulted on the upcoming Commonwealth Ministerial Action Group meeting (CMAG), which will take place in New York. Asim additionally, according to Swarup, "shared his assessment on recent developments in his country and their engagement with the UN and the Special Envoy of the Commonwealth in the context of the forthcoming CMAG meeting."
Asim's visit to India comes amid a relative decrease in political instability in the Maldives. The country had during the past year seen a sharp period of political infighting after the incumbent government convicted and jailed Mohammed Nasheed, the country's former and first democratically elected president, on terrorism charges.
India threw its support behind Nasheed and the Maldives began to progressively swing out of New Delhi's orbit, moving instead toward China. (A constitutional amendment passed last summer in the Maldives had India worried about China effectively purchasing Maldivian islands.) Both countries eventually moved toward restoring their ties. For example, earlier this year, during a visit by Maldives President Abdulla Yameen to New Delhi, India and the Maldives signed an agreement on defense cooperation whereby India would train Maldivian troops and supply equipment.
In addition to defense cooperation, shared concerns about terrorism have brought the two countries closer together after a period of drift. During Asim's visit, India disclosed a recent visit to Male, the capital of the Maldives, by Syed Asif Ibrahim, a former chief of the Indian Intelligence Bureau. Terrorism–specifically Indian concerns over the spread of the Islamic State in the Maldives–featured at the top of Ibrahim's agenda.
The government of the Maldives has said that it estimates between 50 and 100 of its 300,000 citizens have traveled to Syria and Iraq to fight for the Islamic State. (Nasheed had claimed a higher figure of 200 in 2014.)