How Exactly Did Kazakhstan Help Turkish-Russian Rapprochement Along?
More on Kazakh-Russian relations, troubling constitutional changes brewing in Kyrgyzstan, and a beard story; links.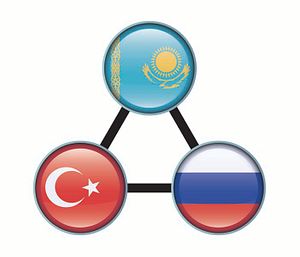 Weekend Central Asia reads:
The New Shuttle Diplomacy: While I've discussed Kazakhstan's role as a go-between–of late between Turkey and Russia–at length before, the Hurriyet Daily News has an account of how the rapprochement between Turkey and Russian came about. The story includes a four-star army general, a textile magnate, two urgent notes from Nursultan Nazarbayev, the nuances of Russian verbs for "sorry," a 3 a.m. flight from Ankara, which lifted off before overflight allowances had been guaranteed by countries like Georgia, Azerbaijan, and Turkmenistan (finally achieved via WhatsApp) and a last minute "okay" from Uzbek President Islam Karimov to enter Uzbek airspace; and finally a quick proof-read by Nazarbayev of the apology-not-apology letter on the sidelines of the Shanghai Cooperation Organization summit in Tashkent before delivery into the hands of Russian President Vladimir Putin. To say the least, it's a must read account of modern shuttle diplomacy and a great basis for a blockbuster film. It should be called извините.
Kazakhstan and Russia: A triplet of articles published in the August issue of Russian Analytical Digest takes on the complex dynamics inherent in the Kazakhstan-Russia relationship. "Kazakhstan–Russia relations are going through a period of unprecedented turbulence," Nate Schenkkan notes in the first article. " Significant changes in Russia's foreign policy and in Kazakhstan's politics, demography, and economy are changing the framework for the most important bilateral relationship in Central Asia." The second article, by  Mariya Y. Omelicheva, hones in on military and security cooperation and the evolution toward independence by the Kazakh military and defense industry. The final article, by Yelena Nikolayevna Zabortseva,  tackles the thorny issue of the Ukraine crisis and its impact on Kazakh-Russian relations.
Constitutional Changes in Kyrgyzstan: Lawmakers in Bishkek are proposing a constitutional referendum–despite a prohibition on changing the 2010 constitution before 2020. Among the changes proposed are a re-working of the marriage clause to define marriage more narrowly. As is, the constitution doesn't define who can be married but stipulates only that they must have reached age of consent. Franco Galdini, for Mufta, details some of the worries surrounding the possible change in language–specifying that those getting married are "a man and a woman"–the most obvious being the impact on Kyrgyzstan embattled LGBT community.
Meeting the Arkadag (or not): Eurasianet has an account, by Begench Nurgeldy (a pseudonym for obvious reasons) of a Central Asia scholar missing his chance to meet the president of Turkmenistan, doomed by his affection for his beard. Gurbanguly Berdimuhamadov's visage is reportedly omnipresent in the country, "yet few will ever have an opportunity to meet him in person, and shake his hand. And those who do, will have to wait. Wait, and possibly shave."