Is China Losing South Korea?
Not entirely, but both countries need to make new adjustments to new realities.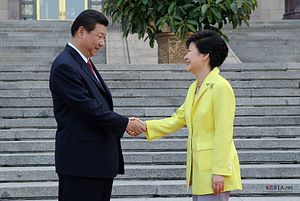 The recent tensions between China and South Korea have led some analysts to believe that China might be losing South Korea as a reliable partner or even a potential ally. Indeed, since South Korea decided to deploy the advanced Terminal High Altitude Area Defense (THAAD) missile defense system because of North Korea's nuclear threat and U.S. pressure, China-South Korea relations have gone very cold in multiple ways. While it is understandable that South Korea wants more security assurance when faced with a increasingly powerful North Korean threat, China believes that the THAAD decision actually also hurts its national security. Mutual distrust between China and South Korea prevented effective communication of real intentions,leading to the current bout of cold relations between the two.
It is easy to conclude, following the THAAD decision, that China and South Korea have fundamental conflicts with regard to the North Korea threat. Some argue that China will be pushed toward embracing North Korea again because it might feel cornered by the United States and South Korea, and thus a potential Asian-style Cold War might emerge. Indeed, as South Korea and Japan, two U.S. allies in Asia, are getting closer and closer in security cooperation, such a scenario might not be far-fetched. If that indeed happens, we might see two camps form against one another, with China, Russia, and North Korea on one side and the United States, Japan, and South Korea on the opposite.
While we can never rule out such a grim possibility, there is ample evidence to suggest that China-South Korea relations will not be as bad as the above scenario implies. The first thing we should know about China-South Korea relations is that in the past two decades, the two countries have had their share of ups and downs. In the early 2000s, for example, China-South Korea relations went through a rather cold period because of historical issues and so-called cultural conflicts. Such conflicts, in recent years, have been largely absent due to booming economic interdependence between China and South Korea, but it does not mean the deep-level issues are gone forever. If anything, both ordinary Chinese and South Koreans continue to hold negative views about each other, though the level of negativity is not comparable to China and Japan's mutual perceptions.
And, further complicating matters, there is the North Korea nuclear issue, which refuses to go away despite continued efforts by major powers to denuclearize the country. For a variety of reasons, China will not abandon North Korea despite its recent sanctions on Pyongyang. A collapsed North Korea would be a nightmare for China's security and economic development in northeast China. What this means is that we have some structural conflicts in China-South Korea relations, which are likely to stay with us for a long time.
These negative structural conflicts could certainly put constraints on how far China-South Korea relations can advance. For instance, there won't be any more talk about a China-South Korea alliance in the near future. For many reasons, South Korea understands that it can only rely on the United States for security protection—not China. This, once again, shows the limits of China's economic diplomacy, which sometimes naively believes that more trade will naturally lead to more security cooperation. Other cases, like China's relations with Australia, Japan, and the European Union, also confirm this limitation.
Still, the overall picture is not as pessimistic for the China-South Korea relationship as this bout of THAAD-induced negativity implies. After all, South Korea relies on China's market and materials for its own sustainable economic development, and China needs South Korea to stabilize the Northeast Asian situation. Both countries will soon realize that they do need each other very much. But things will become more difficult before they get better in the next few years. Above all, both countries need to communicate more effectively with each other about their true intentions.