Tokyo to Host 7th China-South Korea-Japan Trilateral Summit
The trilateral Northeast Asian summit will meet for the first time since 2015, with a focus on North Korea.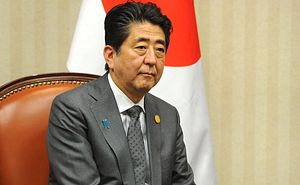 On Wednesday next week, Japanese Prime Minister Shinzo Abe will host South Korean President Moon Jae-in and Chinese Premier Li Keqiang for the seventh Japan-China-South Korea trilateral summit. Abe confirmed the summit, which had been expected since late-2017, during a visit to Amman, Jordan.
The agenda of the meeting will encompass regional issues, with ongoing diplomatic engagement with North Korea high on the agenda. The meeting will take place within two weeks of Moon's historic summit meeting with North Korean leader Kim Jong-un.
Abe described a more open-ended agenda in Amman, noting that "all aspects of the future development of relationships between Japan and China, and Japan and South Korea" would be on the table at the meeting.
Next week's meeting will serve as an important opportunity for Tokyo to take the diplomatic initiative amid accelerating inter-Korean and China-North Korea diplomacy earlier this year. Abe recently traveled to the United States to meet with U.S. President Donald J. Trump to discuss North Korea as well.
But the trilateral summit will be an opportunity to discuss broader issues as well. For instance, Li may seek to build on Chinese Foreign Minister and Vice Premier Wang Yi's visit to Japan. Wang met his Japanese counterpart Taro Kono for a bilateral meeting where North Korea and regional economic issues were high on the agenda.
For Moon, the summit meanwhile will serve as an opportunity to brief the Japanese leader and Chinese premier on the outcomes of the inter-Korean summit and potential plans to implement the ambitious objectives laid out in the Panmunjom Declaration released last Friday.
In Amman, Abe said that he would reiterate Japan's interest in seeing "concrete actions" from North Korea on denuclearization. Tokyo has been wary of Kim's recent concessions, including declarations to cease further testing of intercontinental-range ballistic missiles and nuclear weapons.
The summit in Tokyo also comes as Abe remains besieged domestically by political influence-peddling scandals. Hosting Moon and Li may serve as an opportunity for the Japanese prime minister to frame himself as a leader with regional influence in Northeast Asia amid flagging public approval ratings.
The first such Northeast Asian trilateral summit was held in 2008. Japan held the first meeting with subsequent summits rotating between the three countries. The summit was held every consecutive year until 2012, when it was suspended for three years amid a chill in Sino-Japanese relations. The summit then met once again in November 2015 and has not since reconvened.