China and South Korea: Examining the Resolution of the THAAD Impasse
THAAD will remain in South Korea, but Beijing secures important assurances from Seoul.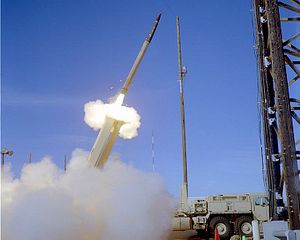 China and South Korea's foreign ministries released coordinated statements at the end of last month announcing they would move to repair their once fast-improving relationship.
Back in 2016 – after the United States and South Korea decided that U.S. Forces Korea would deploy the Terminal High Altitude Area Defense (THAAD) missile defense shield system in South Korea – relations between Beijing and Seoul fell off a cliff.
China unofficially sanctioned South Korean firms, including Lotte, the conglomerate that would eventually cede land to the South Korean government in the country's south to allow for a deployment of the missile system. Chinese tourism to South Korea came to a near standstill. Altogether, the sanctions over THAAD cost South Korea billions of dollars.
Now, seemingly out of the blue, both sides have decided that enough is enough.
Chinese President Xi Jinping will meet his South Korean counterpart Moon Jae-in on the sidelines of the upcoming Asia-Pacific Economic Cooperation summit in Da Nang, Vietnam, to kick off a new period of detente between the two countries.
What really happened here? Did China simply cut its losses over THAAD?
For Beijing, the U.S. deployment of THAAD was never about the missile interceptors. Rather, Beijing has long expressed open concern – even through its foreign minister – about the powerful X-band AN/TPY-2 radar that accompanies the THAAD system.
The Chinese fear is that this radar could be linked to other theaters and homeland missile defense systems and degrade the PLA Rocket Force's ability to carry out a nuclear second strike in a war against the United States.
The United States and South Korea long maintained that the deployment was solely about the North Korean threat to U.S. military assets in South Korea. To convince China of this, the United States invited China to technical talks, which Beijing rejected.
China's technical claims about the radar were vastly overstated, especially when it came to the system's range and operating capabilities.
So, on first glance, now that Seoul and Beijing are mending their ties with the THAAD system in place, it appears to be a defeat for China – an example of failed economic coercion.
Matters, however, are not that simple.
From its side, South Korea gave China three assurances, or the "three no's". South Korea would not consider additional THAAD deployment, would not consider the use of other U.S. missile defense systems and would not consider joining an alliance with the U.S. and Japan.
It is unclear if Seoul coordinated these "three no's" with the United States, but based on U.S. National Security Adviser H.R. McMaster's reaction to a question before Trump's Asia trip on the matter, it appeared to have been a product of behind-the-scenes South Korea-China diplomacy.
The consequences of these assurances are troubling. Indeed, by tolerating a single THAAD deployment, China has received considerable assurances about the scope of South Korean behaviour within its alliance with the United States.
Even while the assurances are in accord with existing South Korean policy and an alliance with Japan is unlikely given the deep divisions between Seoul and Tokyo, that a U.S. ally would give Beijing such assurances is worrying in itself.
All of this comes, too, as the US-South Korea alliance is strained by North Korea's acquisition of an intercontinental-range ballistic missile capability, which makes U.S. alliance management considerably more challenging than before. Seoul must believe that Washington would come to its assistance, as North Korea can target U.S. cities.
Not only that, but the strained and difficult personal relationship between the left-leaning South Korean President Moon Jae-in and U.S. President Donald Trump only further intensifies the alliance management task, especially given Trump's repeated criticism of the South Korea-U.S. Free Trade Agreement.
The long-term implications of the China-South Korea understanding on missile defense remains to be seen. Effectively, by employing economic coercion, China has constrained the United States' relationship with a key ally in Northeast Asia.
If, in the future, realities change and additional U.S. missile defense deployments become necessary, China will probably again retaliate economically against South Korea.
Time will tell who – Seoul or Beijing – came out on top in the THAAD saga, but it is far from obvious that this was an instance of failed Chinese economic coercion.
This article first appeared in the South China Morning Post. It is republished here with kind permission.