Maldives Criminal Court Seeks Arrest of Opposition Leaders, Including Former President
A group of opposition leaders reportedly met recently in Sri Lanka.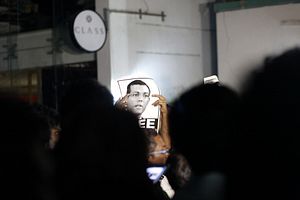 In addition to Nasheed, who had previously been jailed on terrorism charges, the court sought the arrest of Mohamed Jameel Ahmed, a former vice president of the Maldives under current President Adulla Yameen, and Akram Kamaldeen, a senior official with the Maldivian Democratic Party.
Together, the three lead what is known as the Maldives United Opposition–a consortium of Maldivian opposition parties and groups concerned about the small Indian Ocean island state's democratic backslide under Yameen.
Yameen, a half-brother of the country's 30-year autocratic leader, has cracked down sharply on opposition figures and even those within his own government. Earlier this summer, his vice president, Ahmed Adeeb, was sentenced to 15 years in prison for allegedly attempting to assassinate Yameen.
News of Nasheed and other opposition figures meeting furtively in Sri Lanka, an Indian Ocean neighbor, and plotting the overthrow of the incumbent government will likely only inflame Yameen's determination to crack down on the opposition.
Nasheed argues that his attempt to investigate and recover missing money associated with that deal led to his fall from power and Yameen's subsequent rise.
As the domestic politics of this small island nation continue to remain uncertain, larger powers, near and far, are watching closely.