Russia's New Supersonic Strategic Bomber to Perform Maiden Flight in 2018
The Tupolev Tu-160M2 is expected to take to the skies for the first time in late 2018.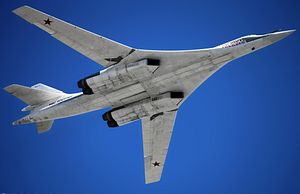 Russia's upgraded Tupolev Tu-160M2 long-range supersonic strategic bomber is expected to perform its maiden flight in late 2018, the head of the Russian Air Force, Colonel General Viktor Bondarev said on August 4, according to TASS news agency.
"The first Tu-160M2 is set to take to the skies in late 2018 and then the first serial-produced aircraft will perform its flight in 2021. After that, purchases will start," Bondarev said. Based on the general's remarks, the Russian Air Force can expect the first serial-produced Tu-160M2 to be inducted by 2023.
The Tu-160M2 strategic bomber is an upgraded version of the older Tu-160, the last strategic bomber to enter service before the collapse of the Soviet Union. However, "this will be essentially a new airplane, not a Tu-160 but a Tu-160M2," Russia's Deputy Defense Minister Yuriy Borisov told RIA Novosti in 2015.
The bomber will presumably be fitted with new avionics, sensors, displays, and communications systems, as well as new operating software, although Russia has not revealed any specific details about the upgrades save for the aircraft's engines.
"We plan to install NK-32 series 2 [engines] on Tu-160M2. The motor has been upgraded, its main aggregates have become more cost-effective. Therefore, NK-32 series 2 has improved performance, and its range of flight will be increased by at least 1,000 km, compared with existing engines," Borisov said.
Given the bomber's limited stealth capability, it will presumably be armed with long-range standoff cruise missiles such as the Kh-101/Kh-102 (nuclear variant) air-launched cruise missile with an estimated range of 2,700 to 5,000 kilometers.  The Tu-160M2 will likely carry the missiles internally on a rotary launcher.
Russian President Vladimir Putin decided in May 2015 to revive the production of the Tu-160M2. The Russian Defense Ministry's plan is to add three new bombers per year starting in 2023. Russia is currently operating 16 Tu-160s, all of which are slated be upgraded in the years ahead. The Russian Air Force also plans to acquire 50 new Tu-160M2s.
There are currently efforts underway to reach 80 percent serviceability within the Russian Air Force's long-range bomber force in the years ahead. It is assumed that out of the 16 Tu-160s in service at the moment, only half a dozen are in fact operational.
One of the results of the Tu-160M2 program is that Russia's next-generation strategic bomber, dubbed PAK-DA–Prospective Aviation Complex for Long-Range Aviation–will be delayed past 2023. The PAK-DA will likely be a subsonic strategic bomber with an emphasis on heavy payload and long-range capabilities, as I reported previously (See: "Russia's Next Generation Strategic Bomber Delayed").