Russia's New Supersonic Strategic Bomber to Enter Serial Production in 2020
Serial production of Russia's upgraded Tupolev Tu-160M2 bomber will reportedly kick off in 2020.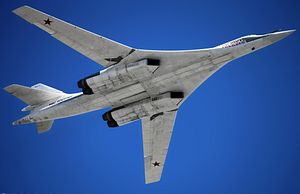 Serial production of Russia's upgraded Tupolev Tu-160M2 long-range supersonic strategic bomber is slated to kick off in 2020, according to a Russian defense industry source.
The Tu-160M2 supersonic strategic bomber is an upgraded version of the older Tu-160 heavy strategic bomber, which in 1987 became the last strategic bomber to enter service prior to the collapse of the Soviet Union.  There are only 16 Tu-160s currently in service with the Russian Air Force, with about half of that number operational.
The source also told TASS news agency that defense authorities plan to roll out two to three upgraded bombers per year, confirming earlier reports about the aircraft's likely production schedule. The Russian Air Force plans to acquire up to 50 new Tu-160M2s.
In a television interview on April 11, the head of Russia's Aircraft-Building Corporation, Yuri Slyusar, said:  "We are concluding R&D work in 2021 and starting from 2022 we are beginning the serial production of these machines. We are discussing the exact figure with the customer. I believe their number will range from 30 to 50 machines."
The upgrade will include a complete overhaul of the aircraft, as I explained previously:
The bomber will presumably be fitted with new avionics, sensors, displays, and communications systems, as well as new operating software, although Russia has not revealed any specific details about the upgrades save for the aircraft's engines.

(…)

Given the bomber's limited stealth capability, it will presumably be armed with long-range standoff cruise missiles such as the Kh-101/Kh-102 (nuclear variant) air-launched cruise missile with an estimated range of 2,700 to 5,000 kilometers.  The Tu-160M2 will likely carry the missiles internally on a rotary launcher.
In 2015, Russia's deputy defense minister, Yuriy Borisov, said that the ministry intends to "install NK-32 series 2 [engines] on Tu-160M2. The motor has been upgraded, its main aggregates have become more cost-effective. Therefore, NK-32 series 2 has improved performance, and its range of flight will be increased by at least 1,000 km, compared with existing engines."  Borisov also said that the Tu-160M2 is not just an upgraded variant of the Tu-160, but a completely new aircraft.
The decision to upgrade the Soviet-era supersonic bomber was made by Russian President Vladimir Putin in 2015, which reportedly caused delays in Russia's next-generation strategic stealth bomber project — dubbed PAK DA (an acronym for "Prospective Aviation Complex for Long-Range Aviation").  The Russian military plans for a maiden flight of the PAK DA prototype in 2019 or 2020 and expects to induct the aircraft into service by 2023-25. Once operational, older bomber models — Tu-160, Tu-95MS, and Tu-22M3 — will be retired.