Time for China to Rethink South Korea Relations?
China may need to rationally rethink its approach to South Korea.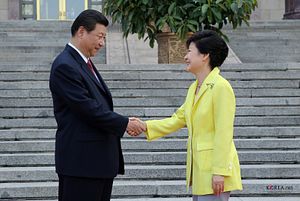 The tensions, or chilliness, between China and South Korea over the deployment of the Terminal High Altitude Area Defense (THAAD) system is still evolving. Public communications, for example, have been practically affected. In fact, South Korea's entertainment industry is believed to be facing a serious fallout due to its heavy dependence on the Chinese market. According to Chinese media, amid rumors that K-pop and Korean soap operas may be blacklisted in China, "the four major South Korean entertainment enterprises have lost a combined 361.5 billion won (US$325 million) on the stock market" within the first few days of August. Of course, the damage could be reciprocal, as Chinese IT companies have been investing heavily in Korean entertainment companies in the past year.

The current situation begs the question: Does China need to rethink its relationship with South Korea? Beijing has highly valued ties with Seoul as part of China's "neighborhood diplomacy." Is it time for a "rational regression" in the relationship — for China to stop placing a special emphasis on South Korean relations? Obviously, this ongoing issue between Beijing and Seoul has had a very negative effect on the principles of "amity, sincerity, mutual benefit, and inclusiveness," which where highlighted during President Xi Jinping's visit to Seoul in 2014. The Chinese still believe that their actions towards the South Koreans were throughout the whole THAAD deployment saga were in no way unfriendly.
The obstacle to true "amity, sincerity, mutual benefit, and inclusiveness" between Beijing and Seoul is a sort of "cognitive dislocation" from both sides. With regard to the ongoing Korean Peninsula conundrum, South Korea expects China to see a substantial "common threat" from North Korea's nuclear program, missile tests, and fundamentally the Kim regime itself. Meanwhile, China naturally expects South Korea to continue to maintain its tacit balance in this region as a trustworthy strategic partner for Beijing, given the fact that China's huge market plays an undeniably important role in South Korea's exports, whether that includes high-end industrial products or the "Korean wave" of cultural exports.
China does see a growing threat from North Korea's nuclear and missile tests, but Beijing strives for regional stability and sustainable peace through a very different (and more moderate) approach than the strategy the South Korea-U.S. alliance has been seeking and practicing in its ever-spiraling confrontation with the North. Meanwhile, whether China's "charm offensive" toward South Korea — particularly through massive trade contacts and personnel exchanges — has truly won the South Koreans' hearts remains an open question, despite China's expectations and exhortations. The point is that without the alleviation of the existing tensions and the underlying causes in this region, the rules of realpolitik still prevail, and "amity, sincerity, mutual benefit, and inclusiveness" are no more than a distant dream.
The current THAAD puzzle between these two neighbors may pose the biggest challenge to both China and South Korea since the normalization of their diplomatic relations in 1992. Above all the specific issues, one fundamental question stands out: How do Chinese and South Koreans truly view or value each other?
Maybe both sides have raised their expectations too high. If that is true, given the fact that the South Korean government firmly holds to its decision of THAAD deployment — a decision which China truly loathes — Beijing may need to start considering a "rational regression" for its diplomacy toward South Korea in the long run. This does not necessarily mean a diplomatic fallback, but more a rational and realistic way of conceptualizing the relationship.