US Assistance to Pakistan Set to Fall to Lowest Level Since 2007
The decline in U.S. assistance isn't surprising given broader regional geopolitical trends and alignments.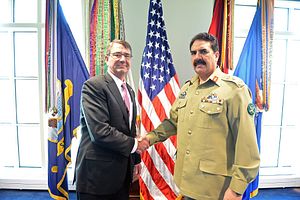 On Friday, Reuters, citing U.S. government data, notes that "American civilian and military aid to Pakistan … is expected to total less than $1 billion in 2016." If this pans out, 2016 would become the first year since 2007 when the United States gave less than $1 billion in foreign assistance to Islamabad. It would moreover represent a difference over more than $2.5 billion from the all-time-high in 2011 of $3.5 billion in U.S. foreign assistance.
The decline in U.S. assistance isn't too surprising given recent trends in not only U.S. relations with Pakistan, but Washington's thinking about the South Asian regional more broadly. Pakistan, though nominally an ally in the U.S. war on terror since the 2001 invasion of Afghanistan, has frustrated Washington with its refusal to pull back support for the Afghan Taliban and other militant groups in the area. As I discussed earlier this month, the U.S. Department of Defense decided to withhold a $300 million tranche of military reimbursement payments, citing Pakistan's inadequate attention against the deadly Haqqani network terror group.
Pakistan's dalliances with a potpourri of militant groups in the region has long been a feature of the country's security policy, independent of its alliance with Washington. In Afghanistan, Pakistan finds use in proxies that undermine the ability of successive Western-backed governments to exercise control over the country, in a bid to pursue strategic depth across the porous Durand Line border. In India, the story is simpler yet–the Pakistani military establishment understands its raison d'etre to be the constant struggle with India.
Moreover, since 2014, when a center-right government under Prime Minister Narendra Modi to came to power in New Delhi, U.S.-India ties have marched forward at an unusual pace–particularly security and defense collaboration between the two countries. Concomitant to this latest period of convergence between the United States and India, China has significantly expanded its economic commitment to Pakistan with the $46 billion China-Pakistan Economic Corridor, a collection of infrastructure and connectivity projects. For the Obama administration, India is increasingly a central partner in the ongoing U.S. "rebalance" to Asia. India's concerns about China's rise contributing to strains on the long-stable post-war liberal order in Asia comport well with the United States' own objectives.
This, it appears, has compounded with the general uneasiness that has simmered below the surface of the U.S.-Pakistan relationship for years now. The decline in U.S. aid is also less surprising given Washington's gradual draw down from the battlefields of Afghanistan. With just 8,400 troops expected to stay on through the end of the Obama administration, U.S. involvement in Afghanistan and, thus, reliance on Pakistan for supplying Afghanistan-based troops, continues to decline from the heyday of the mid-2000s.
Of course, one data point doesn't suggest a trend. U.S.-Pakistan relations have gone through their ups and downs, often influenced by external events outside the control of any one party. What will be telling of a broader geopolitical shift is if in the coming five years, U.S. assistance to Pakistan continues to decline while China's footprint expands.