What Will the Trump Administration's Decision to Withhold Aid From Pakistan Really Accomplish?
The Trump administration makes good on its threats to cut Pakistan off. What happens next?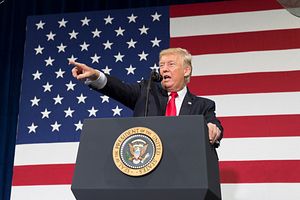 On Thursday, the Trump administration announced that it would be suspending a significant portion of U.S. aid to Pakistan, citing the country as a "safe haven" for terrorists. The move, widely expected after Trump's New Year's Day Twitter broadside against Islamabad, may affect as much as $1.3 billion in U.S. aid to Pakistan under the Foreign Military Financing (FMF) and Coalition Support Reimbursement (CSR) programs. (The precise terms of what funding is being withheld over what terms remains ambiguous, but a CSR and FMF suspension appears likely.)
Earlier this week, Trump took to Twitter to complain that the "United States has foolishly given Pakistan more than 33 billion dollars in aid over the last 15 years, and they have given us nothing but lies & deceit, thinking of our leaders as fools." He added: "They give safe haven to the terrorists we hunt in Afghanistan, with little help. No more!" His outburst followed similarly acerbic criticism during an August 2017 speech unveiling a new strategy for Afghanistan.
Compounding Thursday's announcement, the U.S. Department of State announced that Pakistan would be designated as a country of "particular concern" under the International Religious Freedom Act of 1998 and placed on a special watch list for "severe violations of religious freedom." Though not specified in the statement, Pakistan has long been scrutinized by human rights organizations for giving insufficient attention to the persecution of religious minorities, including Shia Muslims, Christians, and Ahmadi Muslims.
For now, the Trump administration's actions against Pakistan appear to be designed as an attempt to condition Islamabad's behavior. Previous administrations have failed in this endeavor and it's not clear that the Trump administration will succeed. While the decision to withhold financing may be significant depending on the scale of the actual move, the Obama administration withheld a heft $800 million in CSR payments in 2011—a particularly poor year for U.S.-Pakistan relations.
The move yielded little appreciable long-term change in Pakistan's fundamental pursuit of its national interest. The core problem for the United States has long been convincing Pakistan's military and intelligence establishment that it should bring its perceived interests, which include destabilizing Afghanistan and keeping the heat up at the disputed border with India, in line with those of the United States. The U.S. seeks a Pakistan that takes the counter-terrorism obligations that it often gives rhetorical support to more seriously.
What makes the Trump administration's attempt at conditioning the Pakistani military's decision-making particularly tenuous is that the decision to punish Pakistan financially accompanies a decision to surge troops modestly in Afghanistan. With 14,000 troops in Afghanistan, up from 8,400 at the end of the Obama administration, the United States will need sustained access to Pakistan-based supply lines to maintain its presence in the landlocked country.
If U.S.-Pakistan relations fall off a cliff this year, one of the major points of leverage that Islamabad may choose to apply is its acquiescence to the United States resupplying its Afghanistan-based troop presence through its territory—mainly via port access from the Arabian Sea. Unlike in 2011, with the China-Pakistan Economic Corridor in full-swing and Beijing leaning in on its relationship with its so-called all-weather partner, China may step in to take some of the financial edge off.
There are, as yet, a few untapped tools for the Trump administration, however. The U.S. Department of the Treasury, for example, could choose to broadly list senior Pakistani military officers who are known to maintain ties to terror groups and militants. It remains to be seen if the administration will choose to hit Pakistan with a salvo of financial and non-financial sanctions in January 2018, or if it will look to see how Islamabad reacts and behaves before applying additional pressure. Either way, U.S.-Pakistan ties are not set for a particularly smooth year.