Will an Abe-Xi Meeting Happen on the Sidelines of the 2016 G20 Summit?
The two leaders last met in April 2015.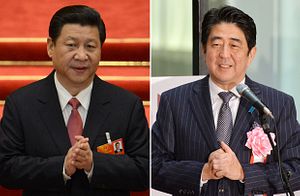 Japanese Prime Minister Shinzo Abe and Chinese President Xi Jinping may hold a bilateral meeting on the sidelines of the Group of 20 leaders' summit, which will be hosted in Hangzhou, China in early September. Shotaro Yachi, Abe's national security advisor met Yang Jiechi, China's state councilor, as the two countries are considering a bilateral meeting after their discussions in Beijing last week. The two officials also discussed the possibility of a trilateral summit with South Korea to be hosted in Japan.
Abe and Xi last met face-to-face sixteen months ago, in April 2015.  Before that meeting, they'd met just three times–most formally on the sidelines of the 2014 Asia-Pacific Economic Cooperation leaders' summit and two times informally in September and October 2013. Abe and Xi reportedly also exchanged brief greetings in Paris, during last year's UN climate change talks, but discussed no substantive matters.
It's not clear that the time is right for a productive meeting between Abe and Xi. Over the summer months, as China's actions in the South China Sea came under international scrutiny in anticipation of a July 12 international legal verdict, China considerably increased its naval and coast guard activities in waters disputed with Japan in the East China Sea. China claims sovereignty over the Senkaku/Diaoyu Islands, which Japan administers. In June 2016, for the first time ever, a Chinese Navy frigate entered the contiguous zone, drawing protest from Japan.
In recent days, tensions have spread to other areas of bilateral concern, including the South China Sea. China's envoy to Japan reportedly told Japanese officials that Japanese Maritime Self-Defense Force participation in U.S.-led freedom of navigation operations in the South China Sea would cross a "red line."
Yachi and Yang reportedly also discussed North Korea. Japan recently expressed its anger after a North Korean Nodong ballistic missile splashed down inside its exclusive economic zone. Last week, just ahead of Yachi's arrival in Beijing, North Korea carried out submarine-launched ballistic missile test, its most successful test of the KN-11 platform to date.
An Abe-Xi meeting at the G20 would no doubt be notable given that the two leaders haven't interacted face-to-face for 16 months, but it's unlikely that they'd be able to make significant progress on any of the issues vexing the bilateral relationship between their countries. Regardless, both Yang and Yachi have been central in helping Japan-China relations cool down in recent years. For example, their November 2014 meeting led to a landmark "four point consensus" that helped the bilateral resume a degree of normalcy after an even colder period in 2013-2014.
In any case, we'll find out soon enough if Abe and Xi will meeting again.