2016 Fighting Season in Afghanistan: Taliban Target Senior Ranks
A senior Afghan police chief, General Zarawar Zahid, was killed in an IED blast on September 11.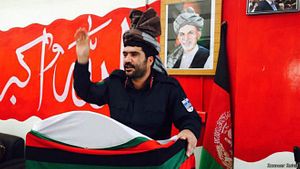 A senior police chief, General Zarawar Zahid, was killed in an IED blast on Sunday in the volatile province of Nangarhar. The Taliban claimed responsibility for the attack.
Nangarhar has faced increasing instability as Islamic State (ISIS) militants have increased attacks in the region. Zabihullah Zmarai, a member of the provincial council, said, "Out of the 22 districts, only six are secure."
Attempting to mount a counterattack to stave off collapse of Hisarack district, Gen. Zahid visited the embattled district, where he was struck by the blast.
Zahid was a well-respected officer who boasted an impressive resume that included stints in Zabul and Ghazni provinces.
In recent weeks, Taliban militants have stepped up high profile attacks on high ranking Afghan officials. Last week, twin blasts outside the Ministry of Defense in Kabul killed several high ranking officials, including General Abdul Raziq, the ministry's senior commander, Kabul's intelligence chief, and a local district police chief. Sharif Faiz, deputy head of the Afghan National Army Support Brigade, was killed in the second blast, as a suicide bomber targeted first responders.
The successful attacks on high profile targets are a costly blow to Afghan forces. Training and equipping Afghan officers is no easy task and takes years of training. Consider that fact that the United States has been engaged in the conflict in Afghanistan for the last 15 years, but even the first second lieutenant would not yet be promotable to general and staff ranks.
To plug gaps and capabilities for Afghan forces during the early onset of the conflict, U.S. forces relied heavily on militia and former soviet mujahideen commanders to fill the role of company grade officers — with warlords serving as generals. The program failed as many militia commanders were incompetent, illiterate, and personal interests at times trumped national interests.
The current model requires Afghan officers to graduate from the Afghan National Military Academy, a four year academy modeled after West Point, and the Afghan National Army Officer Academy, modeled after the U.K.'s Royal Military Academy Sandhurst.
Upon completion and graduation from the military academy, young Afghan officers are promoted to second lieutenant. It can take upwards of 20 to 30 years for a young second lieutenant to gain the requisite battlefield experience to reach the rank of general.
The fact that today, even the very first lieutenants serving in October of 2001–if still alive–would still not have the requisite skill sets to be promotable to general ranks is mind boggling and highlights the complexity of building and fielding a competent Afghan army from scratch. Taking into consideration the probable low life expectancy of an Afghan second lieutenant serving in Helmand Valley, it becomes even more astounding.