India and US Hold Joint Military Exercise Near Chinese Border
The annual military drill focuses on counterinsurgency and counterterrorism operations.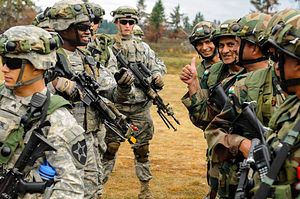 The Indian and United States Armies kicked off a joint military drill in the Chaubatia foothills in India's state of Uttarakhand near the Sino-Indian border on September 15, the Indian Ministry of Defense said in a September 15 statement.
The annually held bilateral exercise, dubbed Yudh Abhyas, is one of the longest running joint military drills between the United States and India. The event is hosted alternately by the two countries. The first exercise was conducted in 2004 at the platoon level, yet its scope and size has increased over the years.
This year, the U.S. Army is participating with a company of 225 men of the 2nd Stryker Brigade Combat Team of the 7th U.S. Infantry Division. The Indian Army will be present with an equal number of soldiers from the 14th Battalion of the Garhwal Rifles and the 12th Battalion of the Madras Regiment.
The focus of the exercise will be counterinsurgency and counterterrorism operations in mountainous terrain under a UN mandate.
"Company strength army personnel from [the] USA and an equal number of Indian soldiers are taking part in the two weeks long joint training exercise that will see them hone their tactical and technical skills in countering insurgency and terrorism in a UN peacekeeping scenario involving a combined deployment at a Brigade level," the Indian defense ministry notes.
The exercise will include "raid, cordon, and search" operations and kick off with a march through difficult terrain.
The defense ministry explains that both sides will plan and practice a set of tactical scenarios that may be encountered during UN peacekeeping missions using state-of-the-art equipment. "State-of-the-art equipment for surveillance and tracking, specialist weapons for Close Quarter Battle with terrorists, explosive and lED detectors, as well as the latest communication equipments are being fielded by both sides," the statement reads.
A number of Indian Army helicopters will also participate and transport troops into a notional hostile territory.
The exercise will take place in a heavily forested area at altitudes of up to 8,000 feet (2,430 meters) just over 100 kilometers away from the Sino-Indian border.
"Yudh Abhyas will be an excellent opportunity for U.S. and Indian forces to share tactics, techniques, procedures and operational experiences. Yudh Abhyas is also an opportunity to broaden U.S.-India military cooperation and enhance interoperability. The U.S. side sincerely appreciates the excellent hospitality and amazing logistics support provided by the Indian Army in the lead up to the exercise," the U.S. Embassy in New Delhi said in a prepared statement to a local newspaper.
Yudh Abhyas 2016 is the first joint India-U.S. military drill after the signing of a bilateral deal on military logistics exchange, known as the Logistics Exchange Memorandum of Agreement (LEMOA).