Is India Capable of a Surgical Strike in Pakistan Controlled Kashmir?
A surgical strike operation by Indian forces begs the question of the military's capability to launch such an attack.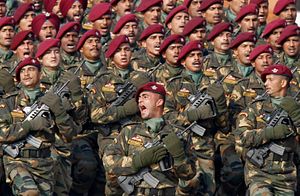 On Thursday India claimed it had conducted a "surgical strike" in Pakistan controlled Kashmir across the Line of Control (LoC). Pakistan denied that India carried out a surgical strike and claimed that two of its soldiers were killed in cross border fire.
"The notion of surgical strike linked to alleged terrorists' bases is an illusion being deliberately generated by India to create false effects," the Pakistani military said in a statement.
India's director general of military operations, Lt. Gen. Ranbir Singh, publicly announced the strike. He stated, "Based on receiving specific and credible inputs that some terrorist teams had positioned themselves at launch pads along the Line of Control to carry out infiltration and conduct terrorist strikes inside Jammu and Kashmir and in various metros in other states, the Indian army conducted surgical strikes at several of these launch pads to pre-empt infiltration by terrorists."
India has provided few details of the operation but sources indicate that the "surgical strikes" consisted of a heliborne unit and Special Forces that infiltrated the LoC and conducted assaults on seven suspected terrorist launch pads that were two to three km beyond the LoC.
Throughout the day Pakistan has continued to deny any surgical strike took place. "There has been no surgical strike by India, instead there had been cross border fire initiated and conducted by India which is existential phenomenon," the Pakistan Army said in a statement.
A surgical strike operation by Indian forces begs the question of whether Indian forces have the capability to launch such a sophisticated and coordinated attack.
Surgical strikes can be conducted through airborne or artillery based precision guided strikes or ground force based assaults; both of which require sophisticated intelligence collection, platforms to conduct collections, and surveillance of target sites and objectives.
India is still on the cusp of building a sophisticated and modernized asymmetrical capability to conduct counterterror operations, while much of its forces are still organized and trained on Cold War models.
Over the last decade, India has spearheaded efforts to modernize her military to include domestic production of unmanned aerial vehicles (UAVs). Rostum I and Rostum II could provide India with an air platform capable of surgical strikes, long loiter times for target surveillance, and intelligence collection. However, these platforms are still in development and Rostum II just began test trials this summer. India's drone development program is still in its infancy.
As for artillery, in 2015, India and BAE finalized contracts for the sale and development of new M777 155 mm howitzer system, capable of firing the new Excalibur GPS guided shell. However, development and production of the artillery system is not slated to begin until 2018.
India does currently field a Russian GPS guided munition called the Krasnopol, though its precision fire support is within a 30-40 km radius and its accuracy is far less when compared to the new Excalibur shell.
As far as precision strike missile capability, India has recently acquired the U.S. anti-tank guided missile (ATGM) Hellfire, which has frequently been used for targeting operations by U.S. forces. India is currently producing a domestic ATGM called the Helina, a helicopter launched precision strike missile, though this missile is still undergoing testing.
In other words, much of India's asymmetrical warfare capability is still being developed and tested. The examples above are by no means an exhaustive list but it certainly details a capacity not fully developed by Indian forces.
Furthermore, a cross border air raid by either heliborne assets or drones would still prove exceedingly difficult as Pakistan boasts an incredibly impressive air defense system. Pakistan controlled Kashmir is a high threat area for shoulder fired surface to air missiles, some of which have found their way into the hands of militant groups. Any air operation over the territory would be under threat from these weapon systems.
India has released little detail on the operation; however if India in fact carried out a cross border surgical strike on terrorist facilities and not Pakistani military posts, it would be a paradigm shift in India's war against terrorist and militant organizations. It would also boast the perception that India's asymmetrical warfare capability is further along than many may perceive.