Is North Korea Building a New Ballistic Missile Submarine?
Kim Jong-un's new diesel-electric ballistic missile submarine has purportedly been under construction since 2009.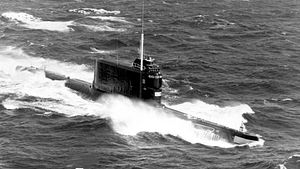 North Korean dictator Kim Jong-un purportedly ordered the construction of a new 3,000-ton diesel-electric submarine capable of firing ballistic missiles, according to a researcher working for a North Korean dissident organization based in Seoul, NK News reports.
Kim Heung-kwang, an analyst working for North Korea Intellectuals Solidarity (NKIS), claims that North Korea has been developing a new submarine. Once completed, the submarine will supposedly be significantly larger than the 1,650-ton (when submerged) Sinpo-class conventionally powered ballistic missile submarine (SSB) currently in service with the Korean People's Navy (KPN).
"From the various human intelligence sources we have gathered, Pyongyang since 2009 has been developing new 3,000-ton class submarines. The goal is to finish the development by October 2017." Kim explained.
"The decision for this development was made by Kim Jong-un and his advisors, who wanted to create an environment in which the U.S. and international society can't easily underestimate the North's preemptive nuclear strike capability," he added.
Reinforcement works of the submarine's body were allegedly completed in 2014. The remodeling of the sub's interior was purportedly completed in the same year. A new radar system will be installed by the end of the year. The boat will reportedly also be armed with new submarine-launched ballistic missiles within the next four months, based on information provided in a NKIS handbook reviewed by NK News.
Kim was unable to provide many additional details, though apparently the new submarine will incorporate Russian parts. "The North, in 2008, purchased two old submarines from Russia, and their plan is to use the parts from the two subs to make a new one," he said. In addition to the new 3,000-ton submarine, Kim also claims that North Korea is planning to construct a new nuclear-powered 3,500-ton class submarine by 2018.
The revelation comes after North Korea test-fired a KN-11 submarine-launched ballistic missile (SLBM) from a submarine off its eastern coast near Sinpo on August 24. Sinpo is home to North Korea's ballistic missile submarine base. Near the base, the regime has been constructing a massive new underground facility either in support of Pyongyang's ballistic submarine or KN-11 missile program.
The North's Sinpo-class SSB is still first and foremost a test platform with limited operational capability. Next to the Sinpo-class, the KPN's submarine fleet consists of "20 Romeo-class vessels, 1,800-ton diesel-electric subs based on 1950s Soviet technology; 40 domestically-built 370-ton Sang-O-class diesel-electric submarines specifically designed for the insertion of special operation forces into the South but also capable of laying mines and conducting anti-surface warfare; and approximately ten 130 tons Yono-class midget submarines," I noted last year.