Malaysia, Ukraine Eye Closer Defense Ties
The two countries will set up a joint commission to expand military-technical cooperation.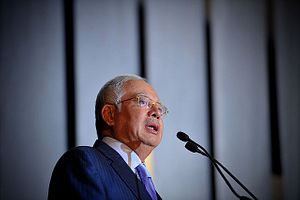 Malaysia and Ukraine will look to further their defense cooperation in the coming months, Ukraine's ambassador to Malaysia said in an interview this week.
Ukraine's envoy Olexander Nechytaylo told state news agency Bernama in an interview at its headquarters on September 11 that Malaysia and Ukraine would move forward with setting up a meeting of a joint commission to expand defense cooperation in the military-technical sphere.
The commission, Nechytaylo said, was discussed and agreed during Ukrainian President Petro Poroshenko's first official visit to Malaysia back in August, where he had met with Malaysian Defense Minister Hishammuddin Hussein.
"The defense cooperation has been an area where both countries have been working together with, for quite sometime now … and with the latest high-level visit, both sides are making the move into a reality," he said.
He said that both defense ministries are now focused on preparations to organize the commission's first meeting and would soon appoint co-chairs from both sides.
Nechytaylo added that with this enhanced cooperation, Ukraine was also keen to share with Malaysia its expertise in military equipment and aircraft development and technology.
Ukraine has been looking to Malaysia as a potential partner in these areas. Back in April this year, UKROBORONPROM, a Ukrainian defense industry association, reported that Malaysia had demonstrated potential interest in joint design and production of patrol boats at a Malaysian shipyard during a meeting between its Director General Roman Romanov and Malaysia's then navy chief. At the meeting, which occurred at the international exhibition DSA 2016, Malaysia was also said to be interested in the Ukrainian AN-148 plane, the electronic surveillance station "Kolchuga-M," and other aircraft, armor and radar.
During Poroshenko's visit to Malaysia, he said that the two countries also discussed the delivery of Ukrainian planes to Malaysia.
Nechytaylo, the envoy, also said during his Bernama interview that a focus of relations would be finding the perpetrators responsible for the downing of Malaysian Airlines Flight MH17, which was traveling from Amsterdam and Kuala Lumpur and carried 298 people and was shot down in eastern Ukraine in July 2014.