Mr. Abe Goes to Vladivostok
Abe's embrace of Russia marks a radical shift from previous Japanese policy.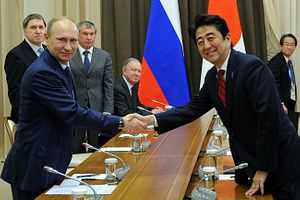 In May 2016 Japanese Prime Minister Shinzo Abe emerged from his meeting with Russian President Vladimir Putin in the Black Sea resort of Sochi and declared the start of a "new approach" to Japan's relations with Russia. In the weeks after this announcement, many observers questioned what this new policy entailed and expressed skepticism as to whether it would make any difference to a relationship that has remained troubled since World War II by a territorial dispute and resulting absence of a peace treaty. However, with Abe's trip to Vladivostok on September 2-3, any remaining doubts about the substance of the "new approach" have been conclusively dispelled. The policy is very much real and it marks a radical shift in Japan's approach to Russia.
In the past, Japan's policy was guided by the principle of the indivisibility of economics and politics. That is to say that Japanese officials would refuse to discuss economic cooperation with Russian counterparts in isolation from the topic of the four disputed islands, which were occupied by Soviet forces at the end of World War II. Japan had already largely moved away from this position during the 2000s but Abe has now explicitly rejected it. The Japanese leader still urgently wishes to resolve the territorial dispute, yet, having observed the enduring failure of a hardline policy, Abe has decided to reverse the order of the process. Instead of holding back cooperation until after progress on the territorial issue has been reached, he has decided that a better way to induce concessions from the Russian side is to achieve a higher level of bilateral economic and political ties in advance of territorial negotiations. This is the key feature of the "new approach."
Specifically, Abe is attempting to build unprecedentedly close personal relations with Putin. It is for this reason that the Japanese prime minister took the unusual step of visiting Russia four times in a row without a reciprocal trip by his Russian counterpart. Abe has also eagerly taken to calling Putin by his first name and, during his well-received speech to the Eastern Economic Forum in Vladivostok, hit an almost romantic note, saying:
"Let us occasionally enter the virgin taiga forest, get enveloped in the sunlight filtering through the trees that appeared in Akira Kurosawa's Dersu Uzala, and together consider what kind of relations Japan and Russia must have 20 or 30 years into the future."
In addition, the Japanese leader is determined to establish a marked improvement in economic ties and this was the key reason for Abe's decision to attend the Eastern Economic Forum in Vladivostok. This represented the ideal opportunity for the Japanese prime minister to add substance to the eight point economic cooperation plan that he announced earlier in the year.
Having carefully laid the groundwork in this way and thereby hopefully created a sense of trust and mutual obligation between the two sides, the Japanese leader plans for the "new approach" to culminate in a summit to be held in Japan on December 15. This will be hosted in Nagato, a hot springs resort in Abe's home prefecture of Yamaguchi. At this "onsen summit," it is hoped that, having sufficiently softened up the Russian leader over the course of the preceding months, he can make use of the informal setting to persuade Putin to agree to a favorable territorial settlement.
It is widely suspected that Abe's proposed deal is for Russia to transfer the two smaller islands of Shikotan and the Habomai to Japan followed by continued negotiations on the status of the larger islands of Kunashir and Iturup (known as Kunashiri and Etorofu in Japanese). This would have the advantage for the Japanese side of delivering some territory immediately without the need to abandon their claim to sovereignty over all four islands. For the Russian side, however, although the 1956 Joint Declaration did commit Moscow to transfer the two smaller islands, this was only envisaged as occurring after the signing of a peace treaty that would conclusively settle the whole territorial question. For Russia to agree to transfer territory without Japan first relinquishing its claim to the larger two islands would therefore represent a significant concession from Moscow.
Before outlining the specifics of what was discussed in Vladivostok and assessing the prospects of Abe succeeding in his plan, it is worth emphasizing the remarkable nature of Abe's "new approach." Not only does the policy contradict Japan's traditional approach to the territorial issue with Russia, it also goes directly against the explicit advice of the United States, an ally whose policies Japan usually follows closely. U.S. President Barack Obama is known to have cautioned Abe against pursuing a rapprochement with Russia during a phone call in February 2016. Additionally, just prior to Abe's trip to Vladivostok, a U.S. State Department spokesman responded to a question about Japan's increasingly close relations with Russia by saying:
"[N]othing's changed about our view that it's still not – it's still not time for, quote/unquote 'business as usual' with Russia across a wide variety of sectors, given the concerns that we still have about their actions in Ukraine, the occupation of Crimea, and the tensions that still exist as we try to get Minsk implemented."
Lastly, it is worth noting the incongruity of a situation in which, at the same time that the Japanese leadership is enthusiastically pursuing closer bilateral ties with Russia, Japan maintains a sanctions policy against Moscow due to what its foreign ministry describes as "Russia's continuous actions which violate the sovereignty and territorial integrity of Ukraine."
Progress Achieved in Vladivostok
After it was confirmed in May that Abe would attend the second Eastern Economic Forum in Vladivostok, both the Japanese and Russian sides worked assiduously to ensure that there would be significant agreements to unveil. Perhaps the most striking development, however, came just prior to Abe's trip. This was the announcement on September 1 that Japan had created a new cabinet position of minister for economic cooperation with Russia. This is the only ministerial portfolio that specifically refers to another country and its creation is further confirmation of Abe's determination to drive a transformation in Japan's relations with Russia. The role has been assigned to Seko Hiroshige, who already holds the position of minister of economy, trade, and industry.
At the Eastern Economic Forum itself, there was a very large Japanese delegation; in fact, this year the Japanese delegation was the largest, far exceeding the size of that from China. The most active area of discussion involving delegates from Japan was energy and talks centered on plans to boost Japanese investment in Russian oil and gas, as well as in renewable energy. It was highlighted that many Japanese private companies remain reluctant to invest, especially because of the continuation of sanctions by G7 countries.
As a consequence, Japanese officials agreed to consider making a change to the rules to enable the Japan Bank for International Cooperation (JBIC), a state-controlled institution, to invest in Russian projects without the involvement of private sector investors. This paves the way for JBIC to increase involvement in Russian energy projects and movement in this direction was immediately made by means of a Memorandum of Understanding on strategic partnership between Russia's Novatek and JBIC. JBIC also intends to provide Novatek with $400 million in financing for its Yamal LNG project with further investment to follow in the company's Arctic LNG project. This is expected to lead to an increase in Japanese imports of Russian liquefied natural gas, possibly via the Northern Sea Route. There was also discussion of the possibility of JBIC taking a 10 percent stake in Rosneft, Russia's state-controlled oil company, though Seko denied that this was an immediate prospect.
Also within the energy sphere, discussions advanced about the so-called Energy Ring. This is an ambitious scheme to connect the power grids of the countries of Northeast Asia, including by means of an undersea cable that would enable electricity exports from Sakhalin to Hokkaido. Although this idea has been raised on many occasions in the past, the talks have now become more detailed. For instance, it has been proposed that that undersea interconnector could have a capacity of 2 GW and that the project's partner companies could include Russia's Rosseti and Japan's Softbank.
Aside from large-scale energy projects, emphasis at the Eastern Economic Forum was placed on hopes for increased Japan-Russia cooperation in the field of healthcare. This is actually listed at the top of Japan's eight point economic cooperation plan and, in his speech in Vladivostok, Abe stressed his government's intention to assist in "lengthening the healthy life expectancy of the Russian public by preparing state-of-the-art facilities for health and medical care."
The Japanese leader similarly underlined the potential for bilateral cooperation in the area of urban development. On this point, the Japanese leader said that he shared his Russian counterpart's dream "to restore the prestige Vladivostok enjoyed at one time as a truly international city" and "to make Vladivostok a gateway linking Eurasia and the Pacific." To this end, Abe proposed that Russia and Japan make Vladivostok "a model city" for cooperation and to combine efforts to create "cities that are clean and comfortable and easy to live and work in." Lastly, discussions were also held about the prospects for increased Japanese involvement in the agriculture, forestry, and transportation sectors of the Russian Far East.
Overall, the Vladivostok forum featured more expressions of ambition with regard to Japan-Russia cooperation than concrete economic deals. Nonetheless, the bilateral discussions were symbolically important and there are expectations that substantive agreements will be reached in the coming weeks and months. To help facilitate this, it is anticipated that Seko will travel to Moscow in the near future. More remarkably, Abe also proposed that the leaders of Japan and Russia meet annually in Vladivostok to oversee the implementation of economic cooperation.
Toward a Territorial Breakthrough?
Abe's trip to Vladivostok undoubtedly succeeded in giving momentum to the countries' political and economic relations. However, what prospects are there that Abe will be similarly successful with the second part of his "new approach" and achieve a major breakthrough on the territorial issue? The two leaders will meet again on the sidelines of the APEC summit in Peru in November. As noted, however, the crucial meeting will take place a month later with Putin's trip to Yamaguchi, the first visit by a Russian president to Japan in six years. Abe will be particularly keen to make the most of this "onsen summit" as it conveniently falls after the U.S. election yet prior to the inauguration of the new president. This ensures that any criticism from Washington of the Japan-Russia rapprochement is likely to be muted. After January 2017, this may change, especially if Hillary Clinton, who holds more hawkish views on Russia, is elected.
However, taking everything into account, even given the favorable timing and Abe's best efforts, there appears no serious prospect that the Japanese prime minister's "new approach" can succeed in inducing significant territorial concessions from Russia. This was, in effect, the message that was communicated by Putin in his wide-ranging Bloomberg interview of September 1. Asked by the interviewer about the prospects of a territorial deal, Putin immediately responded by saying definitively that "We don't trade territories." Importantly, he also stated that, in contrast to the territorial problem that was settled with China in 2004, "the Japanese issue arose as a result of World War II." This means that it is more difficult to settle since, in Putin's words, "revisiting the results of World War II" would be to open "Pandora's box" with major implications for many countries in Europe.
Putin has repeatedly indicated that he regards the 1956 Joint Declaration as the key legal document governing relations between Russia and Japan. On this basis, it has long been assumed that Putin, in accordance with article 9 of that Joint Declaration, would agree to transfer the two smaller islands of Shikotan and Habomai to Japan after the signing of the peace treaty. Although this is not judged sufficient by the Japanese side, Putin's apparent willingness to agree to at least some territorial concessions has been regarded as a positive starting point from which to build.
In reality, however, rather than the "new approach" encouraging the Russian side to consider giving up more than two islands, the effect of the policy appears to have been the opposite. It has been interpreted as a sign that Japan is gradually giving up on its claim to all four of the disputed islands. For example, one Russian newspaper reported on Abe's visit to Vladivostok under the headline "Japan's appetite for the Kurils becomes more modest" (Vzglyad, September 2). Based on this view that Japan's position is weakening, it has also been suggested in Russia that Putin would not even agree to the transfer of the two smaller islands. Instead, several observers, including Vladimir Dzhabarov, a senator and first deputy chairman of the international affairs committee of Russia's Federation Council, have argued that Putin would only agree to allowing Japan to participate in joint development of the islands whilst sovereignty over all four would remain with Russia. The suggestion is that this is what Putin has in mind when he speaks of finding "a compromise" and "about finding a solution where neither party would feel defeated or a loser."
A further indication that this may be what the Russian leadership has in mind was given by Foreign Minister Sergey Lavrov when, immediately after the talks between Putin and Abe on September 2, he suggested that "Today we feel that our Japanese partners are willing to discuss not only matters concerning joint economic activity on the islands but also exchanges between people, cultural ties." Since joint development of the islands whilst they remain under Russian control has always been considered unacceptable by Tokyo, Lavrov's suggestion was immediately denied by Japan's Ministry of Foreign Affairs.
Within Russian media and academia, there are also no signs that opinion is shifting toward considering the merits of further territorial concessions. Indeed, rather than Abe's "new approach" being seen as Japanese largesse that Russia should work hard to maintain, the Japanese leader's urgent attempt to build closer relations with Russia has instead been interpreted as a sign of desperation and a demonstration of the extent to which Japan needs Russia. For example, contributing to a media discussion about Abe's Vladivostok visit, Dmitrii Strel'tsov, a leading Russian Japan expert, argued that Tokyo's actions are driven by fear of a rising China, saying "Japan understands that without Russia it will be very difficult for them in the modern world when the balance of power changes." In the same discussion, Dmitrii Zhuravlev, another academic, emphasized the stagnation of the Japanese economy and the importance of Russia as a potential partner. In his words, "Russia as a huge market, as a huge resource base, and as simply a huge territory can be for Japan, not yet in actual fact but potentially, more important than any other option."
A Failure of Japanese Foreign Policy?
Given the attitudes currently being expressed by Russian politicians and opinion shapers, there seems no prospect that Putin will be persuaded to agree to a favorable territorial deal. Specifically, rather than conceding to the transfer of the two smaller islands plus continued discussions on the status of the other two, it seems that Putin's maximum offer will be the transfer of two islands after the signing of a peace treaty (if not less). Since this deal remains unacceptable to the Japanese side, the probability is that no agreement at all on the territorial issue will be reached at the Yamaguchi summit in December. Instead, the sides will continue to emphasize their increasingly close relations and further discussions will be scheduled for 2017. Since the status quo favors Russia, Moscow will be very happy to enjoy the benefits of increased economic cooperation with Japan whilst simultaneously stringing out the territorial discussions indefinitely.
Since the main goal of the "new approach" is to achieve a breakthrough on the islands issue, Abe's foreign policy toward Russia may therefore be judged by some to have been a failure. This would, however, be to overlook the other benefits of the policy. Although the incentives offered by Japan under the "new approach" are not going to induce territorial concessions, the increased economic cooperation that they will generate is valuable in its own right. Abe was quite correct in saying in his Vladivostok speech that "The economies of Russia and Japan are not in rivalry. I am fully confident that ours is a relationship in which each complements the other in a magnificent way." This being so, while Russia stands to gain enormously from increased Japanese purchases of natural resources and heightened level of investment in the Russian Far East, Japan also stands to gain significantly from the major infrastructure spending that is expected to be undertaken in Russia over the coming years. This could provide a significant boost to the Japanese economy.
In addition, it is worth mentioning the mutual benefits of closer bilateral relations in terms of security. As well as all of the economic issues discussed in Vladivostok, the Russian and Japanese sides also took the time to discuss security issues, including Syria, cooperation within the United Nations, terrorism, and anti-narcotics activities. It is also anticipated that a meeting will soon be held between Yachi Shotaro and Nikolai Patrushev, the heads of the countries' security councils. The development of this security relationship has the advantage for the Russian side of encouraging a degree of distance between Japan and the United States. It also gives Moscow added opportunities to raise its concerns about the deployment of missile defense systems in Asia. The Japanese side, however, also benefits from closer security ties that can potentially serve to draw Russia away from its increasingly close relationship with China. In this way, Japan can help ensure that Moscow does not make common cause with Beijing on sensitive regional issues such as the East and South China Seas.
A final point is that the "new approach" is a relatively low risk strategy for Abe. So far, despite gentle warnings from Washington, his decision to seemingly break ranks with the rest of the G7 and to pursue closer relations with Russia has not had any negative impact on his relationship with the United States. Additionally, failure to achieve a territorial breakthrough with Russia will not damage the prime minister's popularity domestically. This is because Moscow will be careful not to embarrass the Japanese leader by explicitly rejecting his proposal; instead, the Russian side will simply play for time. Also, the territorial dispute with Russia is not a priority issue for most Japanese voters and, since the problem has already endured for more than 70 years, there is little expectation that a Japanese leader will be able to easily resolve it.
Overall then, Abe's "new approach" is a meaningful development and represents a refreshing change in Japanese policy towards Russia. The new policy is unlikely to lead to the territorial deal that Prime Minister Abe hopes for, and yet, despite this, it is well worth having, not only for Russia, but for Japan too.
James D. J. Brown is an associate professor of political science at Temple University, Japan Campus, and author of Japan, Russia and their Territorial Dispute (Routledge, 2016).
Andrei I. Kozinets is an assistant professor of international relations at Far Eastern Federal University, Vladivostok. The Far Eastern Federal University is the conference venue for the Eastern Economic Forum.