North Korea Brings Japan and China Closer Together — For a Moment
Once again, the South China Sea and China's increasing naval presence near Japan are causing frictions.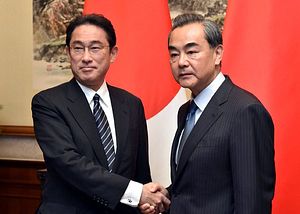 Recent North Korean misbehavior – such as the August 24 submarine-launched ballistic missile test, the September 9 nuclear test, and the September 20 long-range rocket engine test (widely considered a cover for developing intercontinental ballistic missile technology) – has produced much of the same old, same old international reaction. That includes moves toward greater Sino-Japanese cooperation to deal with the greatest source of instability in Northeast Asia.
Shortly after the nuclear test, on September 15, Japanese Foreign Minister Fumio Kishida had a phone conversation with Wang Yi, his Chinese counterpart, in which Kishida called on China to help deal with North Korea. After the call, Kishida told reporters, "Both countries bear great responsibility in the international community. So, it was very meaningful that we reconfirmed cooperation."
A couple days later, on September 21, Japanese Prime Minister Shinzo Abe and Chinese Premier Li Keqiang met in New York at the UN headquarters, and Abe similarly told Li that Japan was ready to cooperate closely with China to adopt a new UN sanctions resolution.
Barring other irritants in the Sino-Japanese relationship, now would have been the prime opportunity for Japanese and Chinese leaders to advance and routinize cooperation. Yet recent Japanese remarks concerning the South China Sea and Chinese actions near Okinawa have rocked the proverbial boat.
Japanese Defense Minister Tomomi Inada made headlines when she said, during a September 15 public speech in Washington, that Japan will increase engagement in the South China Sea through training cruises with the U.S. Navy and multilateral exercises with regional navies.
Such remarks have always provoked a tit-for-tat rhetorical reaction from China, which wants Japan to stay out of its affairs in the South China Sea, as Japan does not have territorial dispute in that sea. For example, Jiang Jianguo, minister of China's State Council Information Office, told a forum in Tokyo on September 26, "There are people who make a fuss about it, although it originally is not Japan's problem. This causes a new problem." Former top Chinese diplomat Tang Jiaxuan also agreed, saying, "Internationally taking up the [South China Sea] issue or intervening and interfering in various ways only complicate the problem. I hope the Japanese side will support efforts by direct parties to the dispute to resolve the issue peacefully."
Since then, on September 26, also in Washington, Admiral Tomohisa Takei, chief of staff at the Maritime Self-Defense Forces, clarified that Inada's remarks did not refer to freedom of navigation operations (FONOPs). Japan has no plans at the moment to join U.S. military freedom of navigation operations in the South China Sea, or to carry out such operations independently.
China's reaction may have even gone a step beyond the realm of rhetoric into reaction, as the Japanese Defense Ministry revealed that eight Chinese military planes flew over the Miyako Strait between the islands of Okinawa and Miyakojima on September 25. Though Japanese airspace was not violated, the Japan Air Self Defense Force did scramble and it was the first time that Chinese fighters were spotted over the strait. The Chinese Defense Ministry claims that more than 40 aircraft were involved as a part of its regular patrol and drills in the western Pacific. Considering the timing, this provocative action could have been a response to Inada's remarks.
In light of such rhetoric and action, it makes sense that both Japanese and Chinese worry about possible escalation: according to a recent Pew Research Center survey, 80 percent of Japanese are very or somewhat concerned "that China's territorial disputes with Japan and other neighboring countries could lead to military conflict," while 59 percent of Chinese share such feelings.
What can be done in this situation to improve bilateral ties?
Admiral Takei has a specific suggestion – resume exchange visits by senior naval personnel and warships between the two countries. The last port visit by a Japanese ship to China was a destroyer docking in Qingdao in 2011, and the last personnel exchange was six years ago.
In the political arena, Tokyo is also trying to coordinate a trilateral summit meeting in late November, or more likely, early December. If the Japan-China-South Korea meeting takes place, it will be the first time for Premier Li and South Korean President Park Geun-hye to visit Japan since assuming their respective posts. While the South Korean government intends to accept the proposal, the Chinese government has been more recalcitrant. Li told Abe at their New York meeting, "I expect a Japan-China-South Kroea summit meeting will be held as scheduled. In this regard, I hope a good atmosphere will be created." Likely, this means that Chinese participation in the proposed summit meeting is contingent on Japanese words and actions regarding the territorial disputes in the South China Sea between now and then.
For his part, Foreign Minister Kishida expressed his hope that the planned summit "would be a chance to improve the Japan-China relationship and put it back on track."