With Eyes on Taiwan, Okinawan Islands Seek Shelter
As tensions around Taiwan increase, remote Okinawan islands look to prepare for a possible conflict by investing in evacuation shelters and other defensive infrastructure.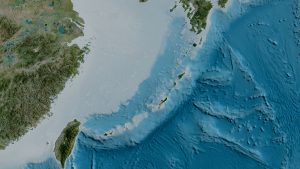 The Japanese government had been discussing since at least last September – before the slew of new defense policy documents were released in December – about constructing evacuation shelters for residents on remote Okinawan islands. These discussions have recently increased in specificity, as Japan prepares for a potential contingency near Taiwan. 
The direct impetus for the current conversation is Chief Cabinet Secretary Hirokazu Matsuno's July 22-24 visit to Okinawa's remote Sakishima Islands. During this visit, he met with Okinawan mayors who asked for central government funding to build defensive infrastructure. In addition to requesting evacuation shelters, Okinawan mayors also asked the central government to fund the expansion of port functions to accommodate larger ships and construct underground parking lots that could serve as emergency evacuation sites. 
The Sakishima Islands – which include Yonagunijima, Ishigakijima, and Miyakojima – are within 400 kilometers of Taiwan and have about 110,000 residents. They also have recently started to host Ground Self-Defense Forces: Yonagunijima in 2016, Miyakojima in 2019, and Ishigakijima in March 2023.
Kenichi Itokazu, mayor of Yonaguni, lamented the challenges of swiftly evacuating the town's 1,700 residents given the lack of large airports and seaports. According to Asahi Shimbun, Itokazu worried, "What should I do to protect the town residents in case of an emergency?" He continued, "We want to ask the government not only to reinforce [Self-Defense Force] troops, but also to help Yonaguni residents, who are supporting the SDF, live with a sense of security." Yonaguni city government is planning to add an underground shelter when it rebuilds its town office.
The Miyakojima city government plans to make the basement of a planned gymnasium into a shelter that can support about 4,500 people for three days. The city government had requested financial assistance from the Defense Ministry in June. The central government is expected to allocate related funds in the next fiscal year's budget. 
Since a law was enacted in 2004, the chief cabinet secretary is responsible for measures to protect Japanese nationals in armed-attack situations. Yet Matsuno is the first chief cabinet secretary to visit the Sakishima Islands. Matsuno indicated that the central government was interested in responding to the mayors' requests: "By closely coordinating with local governments, we will work to make the protection of Japanese nationals in a more effective manner." He also told reporters, "We need to discuss the size [of the shelters], the robustness of them and goods to be stockpiled after taking into consideration the regional situations, populations, transportation methods for evacuation and time required for evacuation." 
The central government is expected to convene a panel of approximately 10 experts to develop guidelines for these shelters this summer. The guidelines will establish standards for floor space and wall thickness to protect residents against nuclear and missile attacks.