Shinzo Abe Going All In on Improving Japan-Russia Ties
Abe is committing a lot of diplomatic (and literal) capital to Japan-Russia relations. What will he get in return?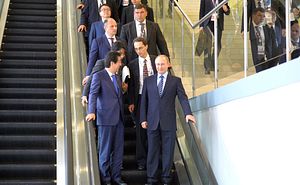 Japan's Prime Minister Shinzo Abe is intensifying his strategy of shoring up ties with Russia. Continuing to break ranks with the G7's sanctions policies, Abe is intent on ensuring tangible gains on the Russian front of his diplomacy while he remains prime minister. Despite lingering uncertainties in bilateral relations, Japan is hoping to erode Russia's persistent leaning toward China and break the long-standing impasse concerning the South Kuril islands, or Northern Territories, over which Tokyo and Moscow have been jockeying for over a half century. Regardless of whether these aspirations are well-judged, Russo-Japanese ties are likely to pick further momentum until the end of the year.
Abe's visit to the Russian town of Sochi in May 2016 became a major sign of a thaw in bilateral relations, which had been temporarily put on ice after Russia annexed Crimea in March 2014. In Sochi, Abe and Russian President Vladimir Putin agreed to apply a new approach to the Northern Territories talks, and set up a date for their next meeting: September 2-3 in Vladivostok, on the sidelines of the Eastern Economic Forum (EEF), a Russian initiative launched in 2015.
The importance that Abe attributes to developing Russo-Japanese relations was underscored ahead of his Vladivostok visit when he created a new position in the Japanese government — a minister for economic cooperation with Russia (in addition to the already existing post of minister for Okinawa and Northern Territories). The appointment went to Hiroshige Seko, a close ally of Abe's who is also currently leading the Ministry of Economy, Trade, and Industry.
As some have speculated, Japan and Russia's new approach toward resolving the territorial dispute might entail Tokyo using economic cooperation as leverage to get Moscow to acquiesce on its rigid stance on the issue. That interpretation was seemingly given credence in Vladivostok as Abe's visit to the EEF was essentially a showcase of the benefits Russia can expect if Japan brings its economic power to bear on the bilateral ties. At the forum, Abe proposed increased cooperation in technology, energy, and agriculture, including joint construction of new liquefied natural gas facilities, which Moscow needs to increase LNG output and exports. Of particular interest were talks about Japan investing almost $10 billion in Russian state-owned oil company Rosneft. The oil giant has borne the brunt of the U.S. and EU sanctions, which means that by directly investing in it, Japan's government brings further disunity to the G7's stance on Russia.
To reap the fruits of strengthened economic cooperation, however, Moscow would need to demonstrate more flexibility on the Northern Territories and divert its attention to Japan from China, which has been the cynosure of Russian diplomacy in East Asia, especially since the start of the Ukrainian crisis in 2014.
The Abe-Putin meeting in Vladivostok saw Abe arguing for starting a new era in bilateral ties and closing the chapter on peace treaty negotiations. Putin struck a conciliatory tone as well, emphasizing the importance of peaceful relations with Japan and expressing readiness to move the territorial dispute forward. The two sides also finalized the date for Putin's trip to Japan, which had previously been in the works for over two years but kept being postponed due to the unraveling of ties with the West over Ukraine. The Russian president is slated to visit Japan on December 15 and meet with Abe in the town of Nagato. The choice of Nagato, a provincial seaside city, was likely dictated not only by symbolism (being Abe's hometown), but also pragmatism — so as to keep Putin's visit low-profile and not attract too much attention from the G7 countries.
Abe clearly thinks that by showing Moscow that China is not the only valuable partner in East Asia, he can nudge Russia toward softening its uncompromising position on the disputed islands. On the surface, the idea is not without merit as both Russia and Japan would clearly benefit from enhancing economic cooperation, particularly in the energy sector. By strengthening bilateral relations, both countries would balance their ties with China, with Russia hedging against further economic and political dependence upon Beijing, and Japan preventing a potential Moscow-Beijing axis.
There is a reason, however, why Japan might eschew getting too close to Russia. Abe's foreign policy doctrine in general and specifically his strategy toward China has been underpinned by an ideologically charged notion of "values-oriented" diplomacy — assisting and fostering better relations with like-minded countries sharing values such as democracy, human rights, and rule of law. The explicit balancing of Beijing that Japan has shifted to under Abe stems from the notion that China is a bad actor who does not share universal values and flouts international law.
In light of the this, the question arises how one rationalizes the rapprochement with Russia, which, like China, should instead be shunned by Japan based on the parameters of its own diplomatic strategy. This is arguably a bigger issue than a mere discrepancy between political rhetoric and reality. One of Japan's primary identities is that of a responsible member of the international community supporting the existing order. By trading ideology for pure pragmatism in dealing with Moscow, Tokyo goes against this identity and effectively normalizes changing the territorial status quo using military force — a stark contrast to its rhetoric with regard to the Senkaku islands. Such a line of argument was put forward in an editorial by Asahi Shimbun days after Abe's visit to Vladivostok.
Despite Abe's persistent attempts to build a more cordial relationship with Russia, there is no guarantee whatsoever that they are going to pay off. Moscow has neither signaled in any way that its view on the ownership of the disputed islands will change, nor has it even shifted its overall rhetoric regarding the territorial row. Furthermore, Abe's Russia-friendly policies give Putin an ample opportunity to exploit them to great benefit without actually providing anything in return other than nebulous hopes of resolving the long-standing problems between the two countries. Increased bilateral cooperation could lead to an inflow of Japanese investments into Russia's moribund economy, while prospects of a rapprochement with Tokyo may be used to strengthen Moscow's standing in its relationship with China.
With that in mind, Abe should walk a tightrope between generating goodwill between Japan and Russia and not seeming too compromising toward Moscow to the international community. Meanwhile, Putin's visit to Japan in December might provide a more substantial evidence as to whether headway can be expected on the Northern Territories dispute.
Dmitry Filippov is a PhD candidate in Japanese studies at the School of East Asian Studies, University of Sheffield.